Update 2020-06-16: All eight Withlacoochee River landings green 2020-06-14
Valdosta's Wednesday Knights Ferry result is not pretty: 2,300 cfu/100 mL E. coli, far over the 1,000 alert limit. Previously, I said we wouldn't turn Swim Guide green until we saw that result. Plus, much more rain fell Friday on Lowndes and Brooks Counties, Georgia. Also, Valdosta got 1,500 on Okapilco Creek at US 84, even worse than the 833 I got there that same Wednesday (see yellow highlighted area).
So, Swim Guide stays red for the Withlacoochee River in Georgia. But Swim Guide goes green for Florida; see below. See also below for the Little and Alapaha Rivers.
WWALS will test tomorrow. You can help.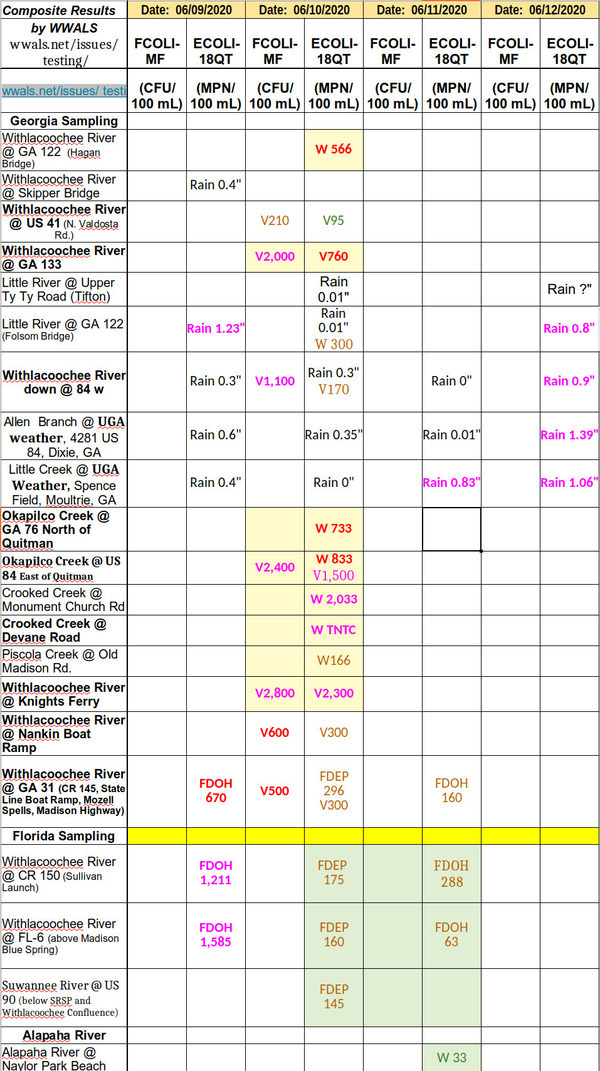 More rain means…?
For context and links to the WWALS composite spreadsheet and all its sources, see https://wwals.net/issues/testing/.
After two consecutive days of good results from the state line downstream (see green highlighted area), the Florida Department of Health lifted yesterday, June 12, 2020, the Advisory they issued June 9, 2020.

FDOH lifts water quality adivsory, Withlacoochee River
PDF
So I've set the Florida Withlacoochee River "beaches" green on Swim Guide.

Swim Guide: green Florida, red Georgia
It's true we have two days of good results for GA 31 on the Withlacoochee River at the State Line. But that contamination at Knights Ferry has to be moving downstream, and could easily have gotten to the state line by now. For Nankin, we do not have two consecutive good results, and it's even closer to Knights Ferry. Plus all that rain Friday, June 12, 2020. So our advice is watch out on the Withlacoochee River in Georgia, at least from US 84 downstream.
And as usual, we have no results downstream of FL 6 other than that one FDEP Wednesday result. Floridians, wouldn't you like to know what's in the Withlacoochee and Suwannee Rivers all the way to the Gulf? Please contact your elected officials and ask them to make regular at least weekly testing happen. If Valdosta, GA, can do it three times a week all the way to the state line, Florida can take it from there.
Upstream on the Withlacoochee River, I guess we need to add at least Langdale Park Boat Ramp and Hagan Bridge so the colors of those will show up on the Swim Guide map.
Upstream on the Little River, I set Folsom Bridge to green on Swim Guide for my Wednesday result, and left Cook County Boat Ramp and Troupville Landing green for historical results.

Swim Guide: Little and Withlacoochee Rivers
On the Alapaha River, we do have two good results at Naylor Park Beach, next to the new Naylor Boat Ramp. Which is why we were willing to paddle there this morning.
Why is the Alapaha River so much cleaner than the Withlacoochee River? The Alapaha has no cities and no industry next to it, and very little animal agriculture.
About time to add Naylor Boat Ramp and Statenville Boat Ramp on the Alapaha River to Swim Guide.
-jsq, John S. Quarterman, Suwannee RIVERKEEPER®
You can join this fun and work by becoming a WWALS member today!
Short Link: