Update 2020-06-16: All eight Withlacoochee River landings green 2020-06-14
Valdosta's Wednesday Knights Ferry result is not pretty: 2,300 cfu/100 mL E. coli, far over the 1,000 alert limit. Previously, I said we wouldn't turn Swim Guide green until we saw that result. Plus, much more rain fell Friday on Lowndes and Brooks Counties, Georgia. Also, Valdosta got 1,500 on Okapilco Creek at US 84, even worse than the 833 I got there that same Wednesday (see yellow highlighted area).
So, Swim Guide stays red for the Withlacoochee River in Georgia. But Swim Guide goes green for Florida; see below. See also below for the Little and Alapaha Rivers.
WWALS will test tomorrow. You can help.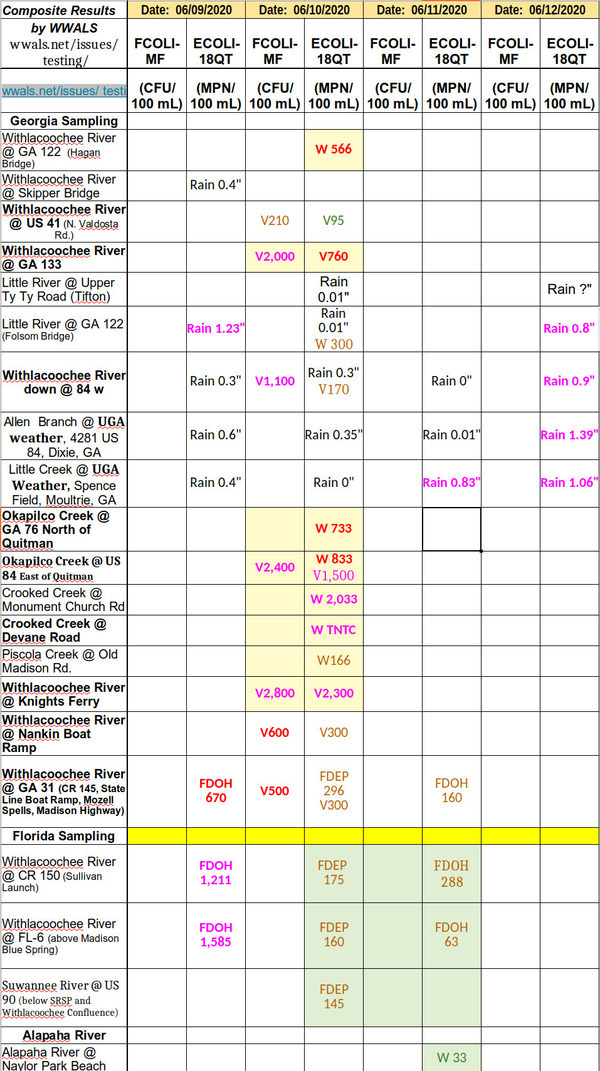 More rain means…?
For context and links to the WWALS composite spreadsheet and all its sources, see https://wwals.net/issues/testing/.
After two consecutive days of good results from the state line downstream (see green highlighted area), the Florida Department of Health lifted yesterday, June 12, 2020, the Advisory they issued June 9, 2020. Continue reading →