Update 2020-06-13: Florida lifts Withlacoochee River advisory; more rain could mean more contamination 2020-06-11.
The Withlacoochee River from the state line to the Suwannee River looked much better Wednesday, according to FDEP results.
Upstream on the Withlacoochee and Little Rivers and two out of three creeks in Brooks County, not so good, according to samples I took Wednesday.
Valdosta's Wednesday results fill in US 41 (North Valdosta Road), GA 133, and US 84 on the Withlacoochee River. We await Valdosta's Knights Ferry and Nankin Boat Ramp results.
Meanwhile, you can help.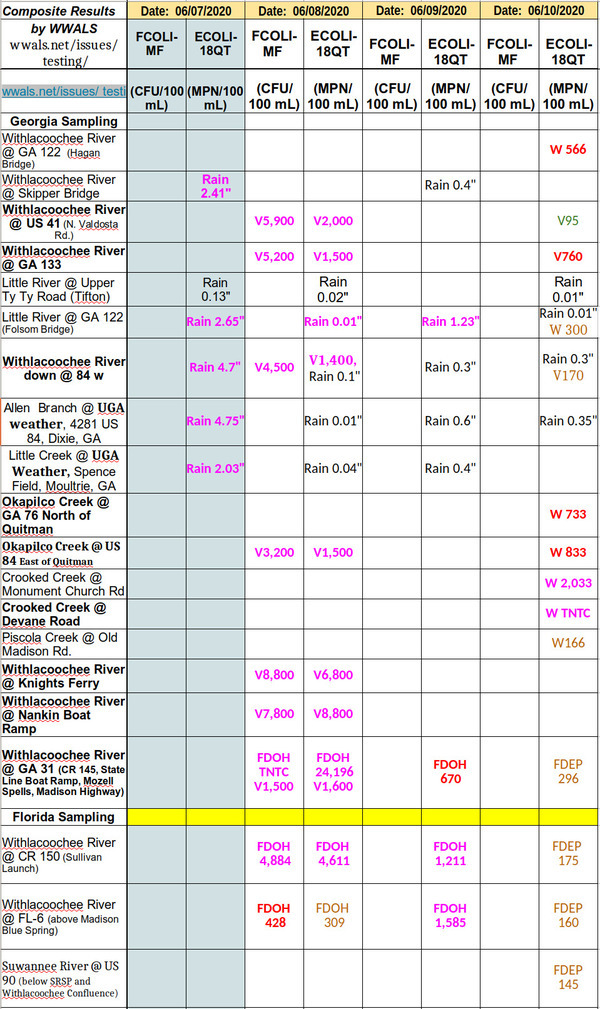 Withlacoochee R. @ GA 122 to Suwannee R. @ US 90
For context and links to the WWALS composite spreadsheet and all its sources, see https://wwals.net/issues/testing/.
Thanks to the Florida Department of Environmental Protection (FDEP) for testing from GA 31 as far downstream as US 90.

Horn Bridge, GA 31, Withlacoochee River
But where did the contamination go? Did it get diluted? Or did it just wash farther downstream? Continue reading →