The biggest, dirtiest, coal plant in the country is losing the owners of one of its four units: Plant Scherer, near Juliette, Georgia, north of Macon. Florida Power & Light (FPL) and the Jacksonville Electric Authority (JEA), are bailing out of their 76.4% and 23.6% shares of unit 4, by January 2022. Somebody else may buy into unit 4, and thus Georgia Power may keep it running. But maybe not, considering the reason for FPL and JEA exiting is that the plant is no longer economical to run. Meanwhile, where will the coal ash go?
At least maybe soon less mercury will go into the air and come down in the Withlacoochee and Alapaha Rivers and the Okefenokee Swamp.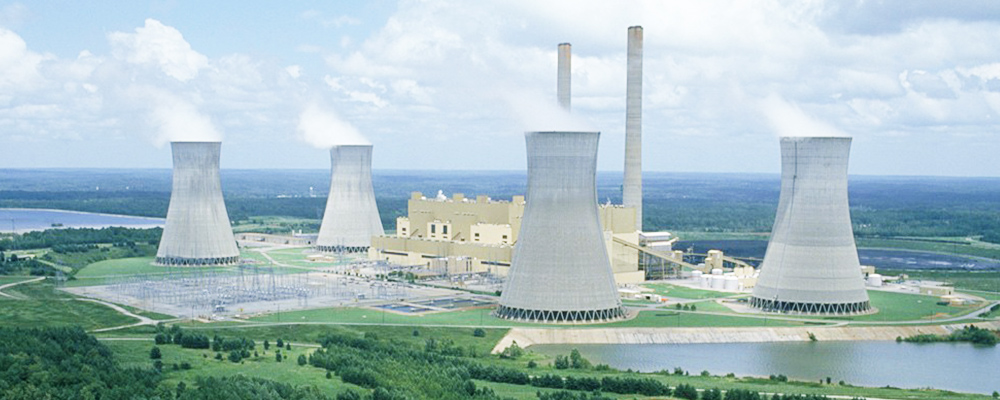 Photo: JEA. Plant Scherer, located near Macon, Georgia, is operated by the Georgia Power Company. Unit 4, one of the four steam units located at the site, is partially owned by JEA. Unit 4 uses coal to produce JEA's 200 MW portion of electricity output, which is delivered to Jacksonville over large, high-voltage electric transmission lines.
This move was signaled in FPL's Ten Year Power Plant Site Plan 2020 – 2029, Submitted To: Florida Public Service Commission, April 2020:
(i) Retirement of Existing Generating Units That Are No Longer Economic to Operate:

…the retirement of FPL's ownership portion (approximately 76%) of the coal-fueled Scherer Unit 4 unit in Georgia is planned by January 2022. FPL's ownership portion of this unit is approximately 630 MW.
The news is not all good. Brendan Rivers, wjct, 26 June 2020, JEA Approves Plan To Close Unit At Plant Scherer, 1 Of Nation's Biggest Carbon Emitters,
The transaction approved by the board includes JEA entering into a 20 year purchase power agreement (PPL) with FPL for natural gas. The natural gas price for the first ten years will be fixed with an option to switch to solar energy for the last ten years.
How much of that gas will get to JAX via the Sabal Trail fracked methane pipeline?
However, the very next topic under JEA's Plant Scherer writeup is:
Solar

Today's energy landscape is changing, and JEA is leading the way. We've been a pioneer in bringing solar energy to Jacksonville since the 1990s. JEA is embarking on a major expansion that will increase our current solar energy offerings by 350 percent. Through the creation of five new local solar farms, JEA will soon provide up to 300 MW of solar power — making Jacksonville one of the leading solar cities in the nation.
So JEA expects soon to have 300 MW of solar power, significantly more than the 200 MW it currently gets from Plant Scherer.
However, FPL's parent NextEra Energy also owns Gulf Power, which owns 25% of Plant Scherer Unit 3. So Florida is still dirtying Georgia air and water.
And remember, the Withlacoochee and Alapaha Rivers and the Okefenokee Swamp flow into the Suwannee River through Florida.
See also the Sierra Club press release of today, Largest Coal Plant In US to Retire Unit in 2022.
-jsq, John S. Quarterman, Suwannee RIVERKEEPER®
You can join this fun and work by becoming a WWALS member today!
Short Link: