Suwannee Riverkeeper and WWALS work for fishable, swimmable, drinkable water in all 10,000 square miles of the Suwannee River Basin and Estuary.
But how big is that, compared to what? Other river systems, states, cities, territories?
The Basin covers 9,950 square miles, plus some harder-to-estimate land and water area for the Estuary. See How big are WWALS Watersheds?
River
Georgia
Florida
Total
Withlacoochee
2,090
270
2,360
Alapaha
1,726
114
1,840
Upper Suwannee River
1,904
816
2,720
Lower Suwannee River
0
1,590
1,590
Santa Fe River
0
1,400
1,400

---

Suwannee River Basin
5,720
4,230
9,950
So 10,000 square miles is a good guess for the total land area.
The Suwannee River Basin is one of the larger ones hereabouts, but far from the largest.
1,061 square miles: Apalachicola River (entirely in Florida)
1,300 square miles: St Marys River (765 in Georgia; 535 in Florida)
2,059 square miles: Withlacoochee (South) River (entirely in Florida; drains directly to the Gulf, not to the Suwannee)
2,324 square miles: Ochlockonee River (Georgia and Florida)
4,000 square miles: Satilla River (entirely in Georgia)
5,540 square miles: Ogeechee River (entirely in Georgia)
8,460 square miles: Flint River (entirely in Georgia)
8,740 square miles: St. Johns River (entirely in Florida)
8,770 square miles: Chattahoochee River (5,940 in Georgia and 2,830 in Alabama)
9,950 square miles: Suwannee River (5,720 in Georgia; 4,230 in Florida)
10,577 square miles: Savannah River (5,821 in Georgia; 4,756 in South Carolina)
13,600 square miles: Altamaha River (including Ocmulgee and Oconee, entirely in Georgia)
19,600 square miles: ACF: Apalachicola, Chattahoochee, and Flint Basin (Georgia, Alabama, and Florida)
24,600 square miles: Lake Okeechobee basin (entirely in Florida)
So the Suwannee River Basin is quite large, but only half the size of the ACF or Lake Okeechobee drainage systems.
The 10,000 square miles of the Suwannee River Basin is almost as big as Massachussetts or Hawaii. The Basin is bigger than Vermont, New Hampshire, or New Jersey. It's bigger than all of Connecticut, Delaware, and Rhode Island put together, and throw in the District of Columbia, It's almost twice the size of Puerto Rico. It's bigger than all of Puerto Rico, the Northern Mariana Islands, the U.S. Virgin Islands, American Samoa, Guam, and Minor Outlying Islands put together.
It's three hours or 167 miles from Waycross, GA, above the Okefenokee Swamp to Suwannee, FL, at the mouth of the Suwannee River. It's three hours or 188 miles from Ashburn, GA, above the tops of the Alapaha, Little, and Withlacoochee Rivers, to Suwannee, FL.
That's similar to Boston, Mass., to Albany, NY, or New York City to Baltimore, MD. Once upon a time I lived in the Boston area (then I escaped), but I never drove to Albany, NY. I have driven from NYC to Baltimore many a time, but it seemed a long way.
For any Californians reading this, we're talking twice as far as San Francisco to Sacramento. Somewhat farther than Berkeley to Yosemite, which I have done a number of times and considered a long way. My second cousin thrice removed Professor Joseph Quarterman LeConte traveled that route many a time until he fell off a mountain and got buried in a cemetery now in Oakland. Fortunately, there are no mountains to fall off of in the Suwannee River Basin.
Also, regarding state capitals, Tallahassee, FL, is closer to any of Ashburn, Waycross, or Suwannee, FL, than Atlanta, GA. Makes you wonder which state all of the Suwannee River Basin really should be in.

Suwannee River Basin
in the WWALS map of all public landings in the Suwannee River Basin.
There are only maybe 300,000 500,000 people in the Suwannee River Basin. It's hard to say more precisely how many, because so many counties and cities are partly in the Basin.
The Basin has less than half the population required of one Congressional District (711,000). Yet the Basin sprawls across parts of five of those: GA-08, GA-01 in Georgia (with tiny bits in GA-12 and GA-02), and FL-05, FL-02, and FL-3 in Florida. And of course four U.S. Senate districts.

U.S. Congressional Districts, Suwannee River Basin
There are vast areas of the Suwannee River Basin where nobody lives. Swamps and wetlands extend far west of the Okefenokee Swamp, with industrial forests taking up much of the rest of the area. The farther down the Suwannee River you go, the more swampy the lands around get.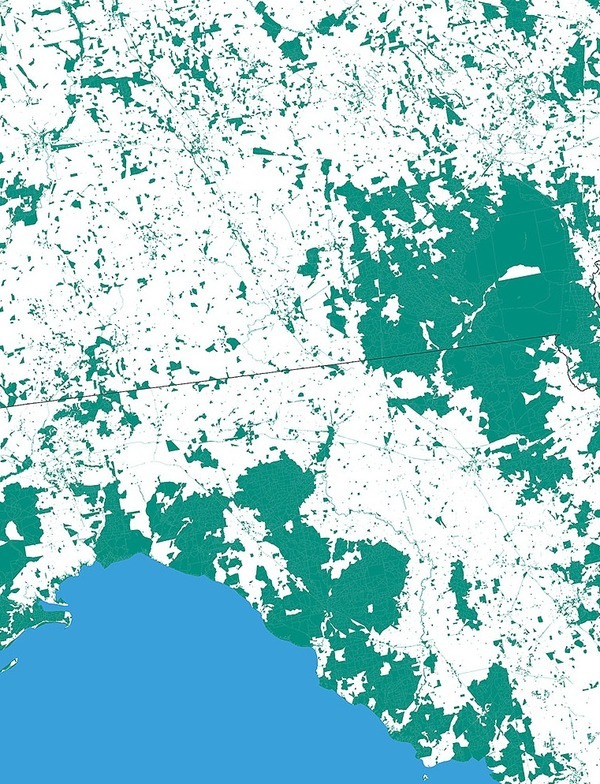 Nobody Lives Here: Unpopulated U.S. Census Blocks, screenshot by jsq from interactive map by mapsbynik.
Where the basin is not swampy or forested, most of it is in agriculture.
So most of the people live in the center and towards the north of the Basin. Most of the population actually lives in Georgia.
The city of Jacksonville, Florida, just outside the Basin, has almost three times as many people. The Tampa-St. Petersburg-Clearwater Metropolitan Statistical Area has ten times as many people as the Suwannee River Basin. The Tallahassee metro area has somewhat more people than the Basin. The Atlanta metro area's 6 million people is 20 times the population of the Basin.
The most populous metro areas inside the Suwannee River Basin are:
139,588 Valdosta MSA (Lowndes, Brooks, Echols, and Lanier Counties). Yes, almost half the total population is in that one MSA, and more than half of the Basin population is in Georgia.
71,686 Lake City, FL, MSA (Columbia County)
41,706 Tifton MSA (Tift County)
The Moultrie and Waycross MSAs are larger than the Tift one, but only about half of the Moultrie one is in the Suwannee River Basin, and probably less than half of the Waycross one.
Sure, Gainesville, FL, has about 132,000 people and about 288,000 in its metro are, but that city is not in the Suwannee River Basin. Yet many paddlers on our rivers come from Gainesville, and Gainesville and Alachua County are in the Suwannee River Water Management District, the North Central Florida Regional Planning Council, and its Rivers Task Force. So Gainesville is the 800-pound gorilla just outside the Basin.
There are no states with 300,000 500,000 or fewer people. Even Wyoming, with 582,328 current estimate, has almost twice as many more.
Among territories, Puerto Rico has twelve six times as many people, and the District of Columbia has more than twice as many. The Basin does have about as many people as more people than Guam, the U.S. Virgin Islands, and American Samoa put together, however.
So, the Suwannee River Basin is larger than six states, yet has the population of an overseas territory. That last part is how it often seems both Atlanta and Tallahassee see it.
However, we have many things they do not: blackwater rivers boatable, fishable, and swimmable year-round, the Springs Heartland of Florida and the Ichetucknee River, the Okefenokee Swamp, Banks Lake, Grand Bay, and Reed Bingham State Park, and numerous lakes and pocosin and cypress swamps, plus of course the Gulf of Mexico.
-jsq, John S. Quarterman, Suwannee RIVERKEEPER®
You can join this fun and work by becoming a WWALS member today!
Short Link: