A local and Georgia state institution since 1960, the Georgia Sheriffs' Boys Ranch on GA 122 east of Hahira and just east of the Withlacoochee River has a wastewater treatment pond, which has never reported a spill.

Entrance arch, WPCP, Founded 1960
According to GA-EPD, it has sufficient capacity that it probably never will.
Nonetheless, Monday I went to look at that pond of NPDES Permit No. GA0047228. Thanks to the front office (she did not say her name) for asking the maintenance man (I think she said his name was Mike) to show me the pond.

Looking east, 14:18:23, 31.0230611, -83.2909658
I went partly because the Georgia Environmental Protection Division (GA-EPD) wants a letter from the Boys Ranch in support of reclassification of the Withlacoochee River from Fishing to Recreational designation. Obviously it can't be Drinking designation, which is the strictest about what can go into it, since nobody uses the river for drinking water. However, it can be Recreational, which is stricter than Fishing. I'd think the fish would like cleaner water, and yes, you can fish in a Recreational river, with less danger of getting sick.
Also, we're updating all our river trail online maps and web pages, and this wastewater facility needs a picture for its listing on the Withlacoochee and Little River Water Trail (see below).

Don't swim in that, 14:17:43, 31.0227810, -83.2908570
Definitely not for swimming.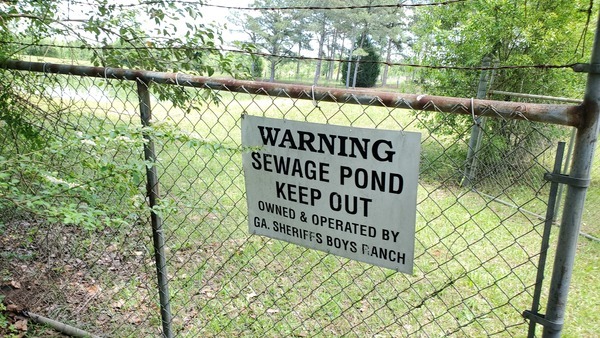 Warning sign on gate, 14:13:21, 31.0227471, -83.2907923
You were warned.
This is a landmark so familiar to people around here (I live about three miles from the Boys Ranch) that we hardly see it anymore.

Gate arch sign, 14:45:52, 31.0176940, -83.2879280
The WLRWT map actually has three Boys Ranch sites:

Map: Boys Ranch, Withlacoochee River, Hagan Bridge Landing @ GA 122
on the WWALS map of the Withlacoochee and Little River Water Trail.
All three are less than a mile upstream from Hagan Bridge Landing on GA 122.
The outfall is a third of a mile downstream from the county line between Lowndes County on the south, Cook County on the northwest, and Berrien County on the northeast. That three-county point is marked by the Point of Interest binocular icon near Lindsey Branch at the top middle of the map.
And 23 miles upstream from the Little River Confluence at Troupville west of Valdosta, and more than 85 miles upstream from the Suwannee River.

Entrance sign and road sign, 14:45:46, 31.0176943, -83.2879284

Entrance sign, 14:44:52, 31.0175622, -83.2881197
Many people remember Lowndes County Sheriff Jewel Futch.

Founded 1960, 14:43:27, 31.0198090, -83.2882780
Next: a cemetery I haven't seen in probably thirty years or more. It's not on the Boys Ranch anymore.
-jsq, John S. Quarterman, Suwannee RIVERKEEPER®
You can join this fun and work by becoming a WWALS member today!
Short Link: