Four years ago SRWMD proposed to pipe Suwannee River water from near White Springs to a sinkhole near Falling Creek to replenish the Ichetucknee River. Now the District has come up with something worse: not one, but two pipelines, adding one from Branford, both to spread water on the ground nearer the Ichetucknee headspring. SRWMD told reporters these were just tentative plans, but SRWMD's own slides lay out a process just like four years ago when a plan was rubberstamped by SRWMD and SJRWMD despite numerous objections. Head it off now!
Here are some easier, less costly, and simpler methods than pipeline boondoggles: send pine plantation ditch water into the aquifer; three ways to limit water withdrawals, and Right to Clean Water.

Map: Recharge % in SRWMD's slides Prevention and Recovery Strategy for the Lower Santa Fe and Ichetucknee Rivers and Priority Springs.
What we wrote four years ago applies twice as much this time:
"The Falling Creek project has very large up-front expense, involves environmental risk in running a large-diameter pipe through wetlands, and has high maintenance cost. In addition it only benefits the Ichetucknee Springs watershed. It is seasonal, for instance at the water levels now in the Suwannee, there is no water to pump to Falling Creek."
Back then we included in our comments to SRWMD a much simpler and less costly proposal from Dennis J. Price, Practicing Geologist of Hamilton County: Proposal for the Recharge of the Upper Floridan Aquifer –D.J. Price P.G. 2016-11-14. Drill aquifer recharge wells at the bottom of pine plantation ditches, so send that water into the aquifer like it used to when wetlands were there.
SRWMD ignored that simpler and easier proposal.
The most the SRWMD board packet had on this new doubly-bad pipeline boondoggle was on page 75:
WEEKLY ACTIVITY REPORT TO GOVERNING BOARD FOR MAY 2 – 8, 2021

Executive / Management

Hugh Thomas, Tom Mirti, and Sean King met with the Florida Farm Bureau to discuss MFLs and the Prevention and Recovery Strategy for the Lower Santa Fe and Ichetucknee Rivers and Priority Springs in Gainesville.
Hugh Thomas, Tim Alexander, Amy Brown, and Pat Webster met with Stan Posey of Nutrien to discuss potential projects.

SRWMD met with Florida Farm Bureau about Prevention and Recovery Strategy
Speaking of farms, how about put some teeth into the Basin Management Action Plans (BMAPs)? Everybody including FDEP knows the BMAPs will do next to nothing to reach the huge reductions needed in nitrates leaching into springs and rivers.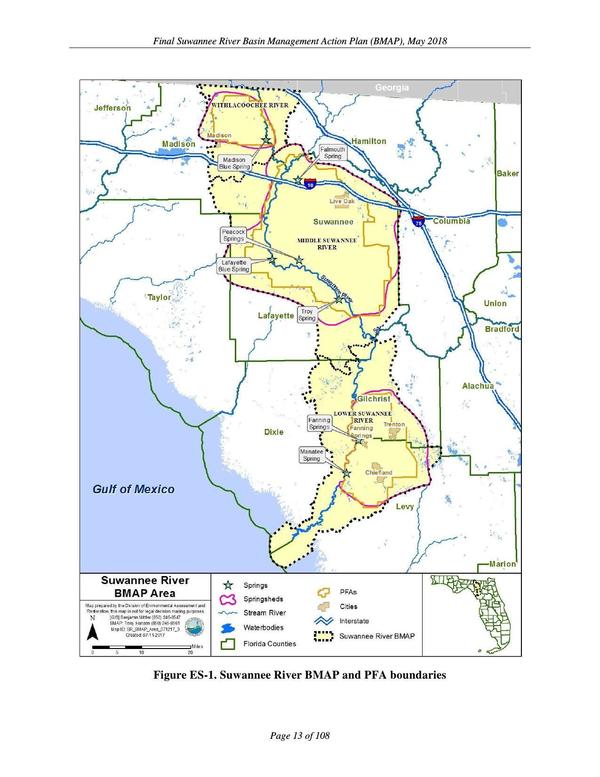 How about modify the permits of all farms that are sending excess nitrates leaching into springs and rivers. Modify them to say 10% reduction in permitted withdrawals each year until nitrate goals are met. I bet that would concentrate some minds on finding ways not to use so much water and fertilizer.
Speaking of Nutrien and its phosphate mine in Hamilton County, look at the biggest blue water withdrawal circles on this map: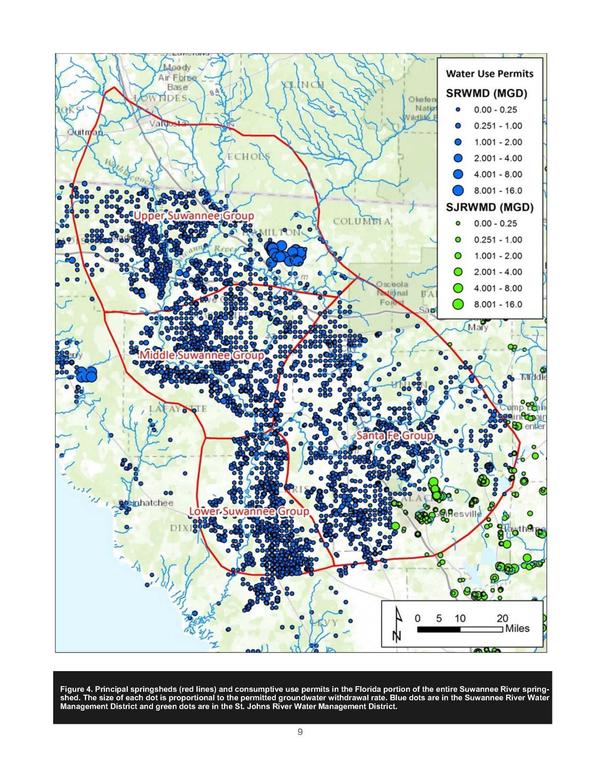 Yes, those circles represent water withdrawals for Nutrien's mine. It's probably not coincidence that when Nutrien withdrew less recently White Sulfur Springs flowed more.

2019-04-03 White Sulfur Spring Flowing, so unusual an event it was reported for SRWMD by their Senior Hydrologist Fay Baird.
How about annual reductions in Nutrien's water withdrawals? That would concentrate some miners' minds on reduced water use.
How about when Nutrien comes for permits to cross the Suwannee River and mine in Columbia County, how about SRWMD deny those permits?
Sure, that would require SRWMD growing a spine, which they did not have when they ignored two years of protest, hundreds of thousands of signatures, and thirty speakers that day, and approved a permit for Seven Springs to withdraw more water for plastic bottles near Ginnie Springs.

Mermaid, Suwannee Riverkeeper, OSFR, Regulatory Fallacy, Charles Keith, Attorneys, Motion to Permit, unanimous SRWMD Board
Noah Valenstein has resigned as FDEP Director. But FDEP and SRWMD's attitude does not seem to have changed from back when he had just become SRWMD Executive Director and I met him in Columbia County in 2016, where I had gone to hear what he had to say about the Falling Creek boondoggle: "Valenstein volunteered that he believes that Florida law requires him and SRWMD to provide water resources for economic development. When I told him we would have to differ on that he said he understood I had a different opinion, but he believes that's the law, and to change it the law would have to be changed."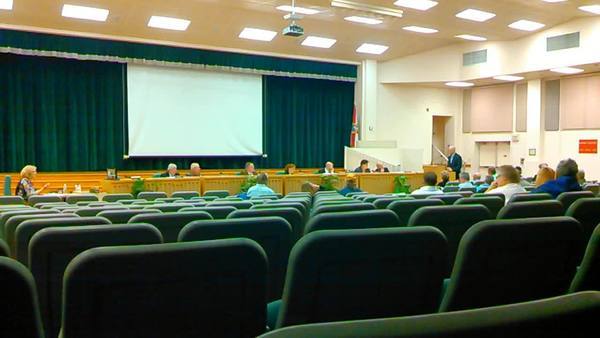 If that is the law, how about SRWMD stop lying to everybody with its website tagline:
Water for Nature. Water for People.
Back then Valenstein also told me that SRWMD is limiting permits, but gradually, not through cutting people off. Has anybody seen any sign of any limits on permits?
Well, it's far past time for permit limits, and permit denials.
If Valenstein is right about the law, the law needs to be changed.
Let's not tinker around the edges. Floridians, please sign the petition to get a constitutional Right to Clean Water on the ballot this year.

Sign all 5: Right to Clean Water, Ban new toll roads, and more
Oh, and it's time to divert a river of water votes through the elections to statehouse and statewide offices this November. If they don't support a Right to Clean Water, vote them out.
Sure, those last two solutions aren't all that easy: they require almost a million petitions signed and millions of votes. But if Floridians will sign and vote, that sure will solve a lot of problems.
Time's a-wasting. The regulatory railroad is already running:
Just like back in January 2017, when SRWMD and SJRWMD had a joint meeting and rubberstamped the North Florida Regional Water Supply Plan (NFRWSP), including the Falling Creek scheme, despite numerous requests to table or to limit water withdrawals.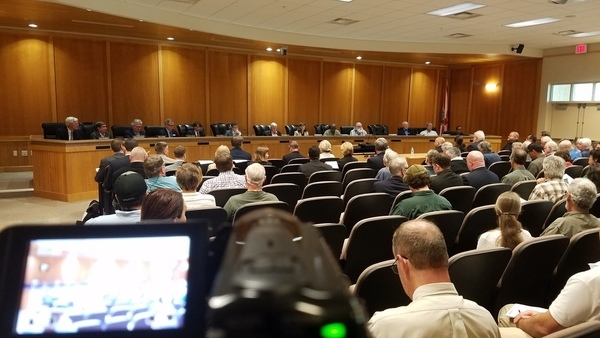 They told me I should have gotten involved earlier. Well, I and many other people are involved the same month we heard about these new pipeline boondoggles.
Floridians, SRWMD and FDEP are not going to limit withdrawals unless you make them do so. Sign for Right to Clean Water. Vote for it in November, and for candidates who are for it.
Here are the slides presented in the 8 June 2021 SRWMD board meeting, and news and opinion articles about this ridiculous pipeline plan. Somebody explain: why do we have to go to Politico to see these slides? Why aren't they on SRWMD's own website? Why were they not included in the SRWMD board packet?
-jsq, John S. Quarterman, Suwannee RIVERKEEPER®
You can join this fun and work by becoming a WWALS member today!
Short Link: