Let's clear some more of the deadfalls blocking the Withlacoochee River between Langdale Park Boat Ramp and Troupville Boat Ramp. We will probably float around right near Sugar Creek, although if we get everything there, we might paddle down towards the Little River.
This is a cleanup, so there's plenty for everyone to do. You do not have to use a chainsaw, and we recommend you do not unless you have experience with them. Everyone near a chainsaw please wear safety eyeglasses.
Yes, Valdosta has ordered a trash boom for Sugar Creek, but we do not yet know when it will arrive and get installed. We want to go ahead with the deadfall clearing while volunteers are enthusiastic, so once the trash is more contained there can be more paddling on the Withlacoochee River.
When: Gather 9 AM, launch 9:30 AM, end 12 PM, Sunday, May 29, 2022
Put In: Salty Snapper parking lot, 1405 Gornto Road, Valdosta, GA 31602.
GPS: 30.8625, -83.31875
Bring: Chainsaw or sawzall if you are experienced with using them. Everyone bring the usual personal flotation device, boat, paddles, snacks, drinking water, and first aid kit. Also trash pickers and trash bags. If you do not have a boat, there will probably be plenty to pick up along the shore, and we may have extra spots in boats.
Free: This outing is free because it is a cleanup.
We recommend you support the work of WWALS by becoming a WWALS member today!
https://wwals.net/donations
Event: facebook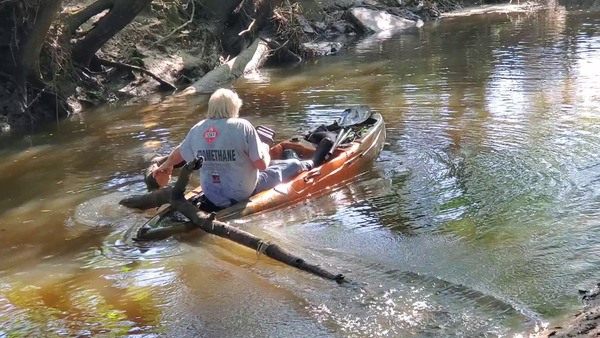 Phil Hubbard sawing a log in a kayak, 2022-05-07 30.8632605, -83.3193490
Continue reading