Update 2017-06-04: And the winners!
Update 2017-04-30: Summary of news coverage.
Update 2017-04-29: Pictures and videos.
Update 2017-04-27: Paddle or Race, Scott James Talk 92.1 FM radio 2017-04-27
Update 2017-04-26: River radio videos: Charlie Walker dried off in time on KIX 99.5 FM for the BIG Little River Paddle Race 2017-04-26 and Video: BLPR and Neighbor Steve Nichols, WVGA 105.9 FM 2017-04-26.
Update 2017-04-25: More river radio: BLPR on The Morning Drive with Steve Nichols, 105.9 FM, 8:15 AM Wednesday April 26, 2017, and you can get a kayak raffle ticket online or at the paddle race.
Update 2017-04-24: Hear about it on the Scott James Talk 92.1 FM radio show 8AM Thursday April 27th.
Back by popular demand! This year plus lunch grilling and a silent auction afterwards: the fifth annual BIG Little River Paddle Race, a fundraiser for WWALS and Friends of Reed Bingham (FORB). Last year we had 34 paddlers, and the traditional winner almost lost! Come on down and you can be a winner, if not first place, in one of many categories.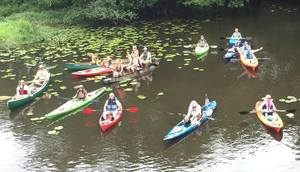 Where: Red Roberts Landing
31°11'32.0″N 83°31'13.2″W
Rountree Bridge Road
Between Moultrie and Adel, GA
I-75 Exit 41 (at Sparks) to Rountree Bridge Road
When: 8AM-9AM Registration
9:30 AM Mass Start
What: Canoes or Kayaks Only
Life jackets required of all participants.
Let people know: facebook event or the Meetup event.
But remember to register.
Registration: Register on-line Continue reading →