Update 2017-06-04: And the winners!
Update 2017-04-30: Summary of news coverage.
Update 2017-04-29: Pictures and videos.
Update 2017-04-27: Paddle or Race, Scott James Talk 92.1 FM radio 2017-04-27
Update 2017-04-26: River radio videos: Charlie Walker dried off in time on KIX 99.5 FM for the BIG Little River Paddle Race 2017-04-26 and Video: BLPR and Neighbor Steve Nichols, WVGA 105.9 FM 2017-04-26.
Update 2017-04-25: More river radio: BLPR on The Morning Drive with Steve Nichols, 105.9 FM, 8:15 AM Wednesday April 26, 2017, and you can get a kayak raffle ticket online or at the paddle race.
Update 2017-04-24: Hear about it on the Scott James Talk 92.1 FM radio show 8AM Thursday April 27th.
Back by popular demand! This year plus lunch grilling and a silent auction afterwards: the fifth annual BIG Little River Paddle Race, a fundraiser for WWALS and Friends of Reed Bingham (FORB). Last year we had 34 paddlers, and the traditional winner almost lost! Come on down and you can be a winner, if not first place, in one of many categories.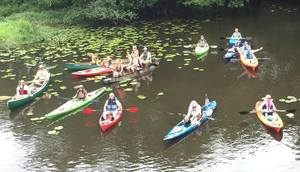 Where: Red Roberts Landing
31°11'32.0″N 83°31'13.2″W
Rountree Bridge Road
Between Moultrie and Adel, GA
I-75 Exit 41 (at Sparks) to Rountree Bridge Road
When: 8AM-9AM Registration
9:30 AM Mass Start
What: Canoes or Kayaks Only
Life jackets required of all participants.
Let people know: facebook event or the Meetup event.
But remember to register.
Registration: Register on-line
Per boat registration: $20 before April 1, 2017 ; $30 from April 1-29 (including site).

plus $5 park entrance fee per vehicle payable at the event
Boat rental available for separate fee at Reed Bingham State Park; contact the park in advance.
The course: A scenic 3 mile, all downstream stretch of the Little River with winding, flat blackwater and some trees to go around. Alligators and/or snakes may be present. It's flatwater through pretty south Georgia forest, under towering cypress trees, past live oaks, coppices of ogeechee tupelo, and majestic pines. The tannin stained blackwaters reflect the beautiful scenery and are typical of the coastal plain. Paddle it to win or just to enjoy. Cash prize to the paddler who finishes first. Medals to top finishers in several categories: male and female solo canoe, male and female solo kayak; male 2 person canoe, female 2 person canoe, mixed 2 person canoe, male tandem kayak, female tandem kayak, mixed tandem kayak. Entrance fee includes a free lunch at the end of the race. Fastest paddlers will complete in under an hour; slow paddlers in 1.5-2 hours. Bring your own boat or rent one from Reed Bingham State Park (advance reservations recommended).
Food: Lunch provided at finish
grilled on the spot this time!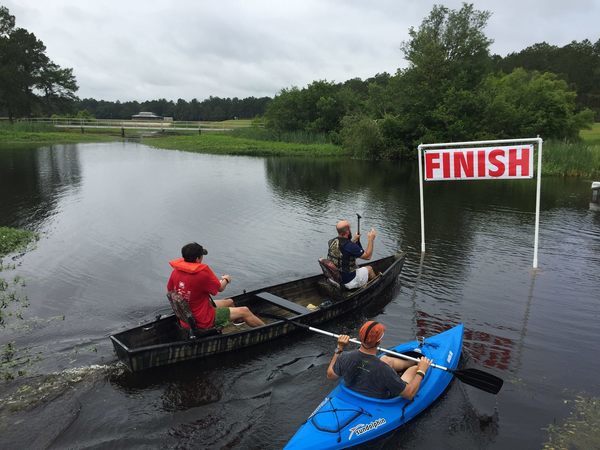 Picture by Bret Wagenhorst.
For: Proceeds to benefit Friends of Reed Bingham State Park
and WWALS Watershed Coalition: Suwannee RIVERKEEPER®
the Waterkeeper® Alliance Member for the Little River
(and the Withlacoochee, Alapaha and Suwannee Rivers)
More: Call 229-392-5513 or stop by Reed Bingham State Park Office.
And we hope to see you at some of the other upcoming WWALS outings and events; see the WWALS Calendar!
-jsq, John S. Quarterman, Suwannee RIVERKEEPER®
You can join this fun and work by becoming a WWALS member today!
Short Link: