It seems to miss one of the main points, but thanks to Mary G. Morris, CEO, VA529, for a thoughtful reply to the WWALS request to divest from Spectra Energy.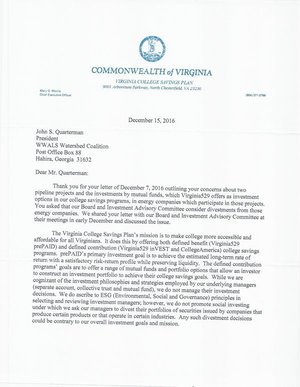 It seems to me that investing in a highly risky pipeline company such as Spectra Energy would be "contrary to [VA529's] overall investment goals and mission", at least if those goals include reliable investments for college, and not stranded investments.
It might be worth looking into the Parnassus Core Equity Fund she mentions. Perhaps college savers who want reliable investments would want to consider moving their investments there.
Suwannee Riverkeeper may continue correspondence with VA529.
Meanwhile, VA529 has a handy VA529 contact form or you can call or write: Continue reading →