It seems to miss one of the main points, but thanks to Mary G. Morris, CEO, VA529, for a thoughtful reply to the WWALS request to divest from Spectra Energy.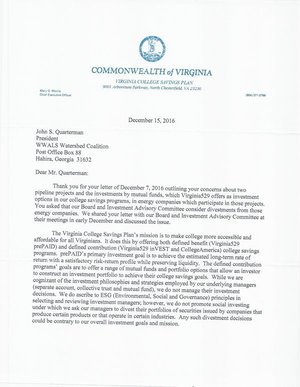 It seems to me that investing in a highly risky pipeline company such as Spectra Energy would be "contrary to [VA529's] overall investment goals and mission", at least if those goals include reliable investments for college, and not stranded investments.
It might be worth looking into the Parnassus Core Equity Fund she mentions. Perhaps college savers who want reliable investments would want to consider moving their investments there.
Suwannee Riverkeeper may continue correspondence with VA529.
Meanwhile, VA529 has a handy VA529 contact form or you can call or write:
1-804-371-0766
Toll-Free: 1-888-567-0540
9001 Arboretum Parkway
North Chesterfield, VA 23236
And there's a Florida-wide campaign to move your money out of pipeline-financing banks.
Here's the text of the VA529 response.
You can join this fun and work by becoming a WWALS member today!
COMMONWEALTH of VIRGINIA
YIRGINIA COLLEGE SAVINGS PLAN
9001 Arboretum Parkway, North Chesterfield, VA 23236

(804) 371-0766

Mary G. Morris
Chief Executive Officer

December 15, 2016

John S. Quarterman
President
WWALS Watershed Coalition
Post Office Box 88
Hahira, Georgia 31632

Dear Mr. Quarterrnan:

Thank you for your letter of December 7, 2016 outlining your concerns about two pipeline projects and the investments by mutual funds, which Virginia529 offers as investment options in our college savings programs, in energy companies which participate in those projects. You asked that our Board and Investment Advisory Committee consider divestments from those energy companies. We shared your letter with our Board and Investment Advisory Committee at their meetings in early December and discussed the issue.

The Virginia College Savings Plan's mission is to make college more accessible and affordable for all Virginians. It does this by offering both defined benefit (Virginia529 prePAID) and defined contribution (Virginia529 inVEST and CollegeAmerica) college savings programs. prePAID's primary investment goal is to achieve the estimated long—term rate of return with a satisfactory risk—return profile while preserving liquidity. The defined contribution programs' goals are to offer a range of mutual finds and portfolio options that allow an investor to construct an investment portfolio to achieve their college savings goals. While we are cognizant of the investment philosophies and strategies employed by our underlying managers (separate account, collective trust and mutual fund), we do not manage their investment decisions. We do ascribe to ESG (Environmental, Social and Governance) principles in selecting and reviewing investment managers; however, we do not promote social investing under which we ask our managers to divest their portfolios of securities issued by companies that produce certain products or that operate in certain industries. Any such divestment decisions could be contrary to our overall investment goals and mission.

We understand that some of our investors desire a socially targeted investment option. As a result, we offer a socially targeted portfolio in our Virginia529 inVEST program. This portfolio invests in the Parnassus Core Equity Fund, a mutual fund that considers ESG factors when making investment decisions. Our investors may choose to invest in this portfolio if they so desire.

We have also forwarded your letter to the American Funds which is the program manager for our CollegeAmerica program which invests only in American Funds mutual fund portfolios. We appreciate your concerns and appreciate your interest in the Virginia College Savings Plan.

Sincerely,
[signed]
Mary G. Morris
Chief Executive Officer

c: Shawn McLaughlin
Board Chairman
Gary Ometer
Chief Financial Officer
Short Link: