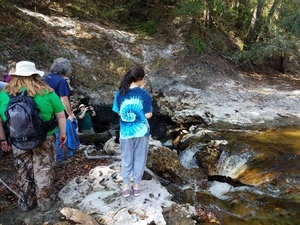 A very scenic hike to some of the most unusual geological features in all of Florida: the Alapaha River Sink and the Dead River Sink. We walked over beds of 50-million-year-old fossilized oysters, above all our drinking water in the Floridan Aquifer. See many pictures and a few videos of the sights, and a google map of the sites.
Practicing Geologist Dennis Price led us by the scenic route on this hike, explaining the karst geology on display, which underlies all of north Florida and south Georgia, containing our drinking water in the Floridan Aquifer. Dennis and hike organizer Chris Mericle recommend making this very unusual area a state park.
The Alapaha River goes underground here unless it has a lot of water, which usually this time of year and right now it does not.

Don't fall into the Devil's Den, 30.5855189, -83.0528064
Update 2022-11-17: The Jennings Gauge read 61.70′ NAVD88.
Until recently nobody knew for sure Continue reading →