FOR IMMEDIATE RELEASE
Hahira, Georgia, November 21, 2017 — Factually incorrect, failing to account for LNG export or solar power, and irresponsible for not finding or creating a method for attributing environmental effects to greenhouse gases, as the DC Circuit Court had instructed the Federal Energy Regulatory Commission (FERC) to do: that's what nine Riverkeepers called FERC's Supplementary Environmental Impact Statement (SEIS) yesterday; see their letter to FERC. The nine include all the Riverkeepers in the path of Sabal Trail and all parts of the Southeast Market Pipelines Project (SMPP) plus others in all three states invaded by those pipelines, Florida, Georgia, Alabama, plus Oklahoma, where the SMPP instigator, Florida Power & Light (FPL), owns a fracking field, The nine, who support fishable, swimmable, drinkable water, pointed out that all of FPL's original excuses for Sabal Trail have been proven incorrect, and asked FERC to shut it down.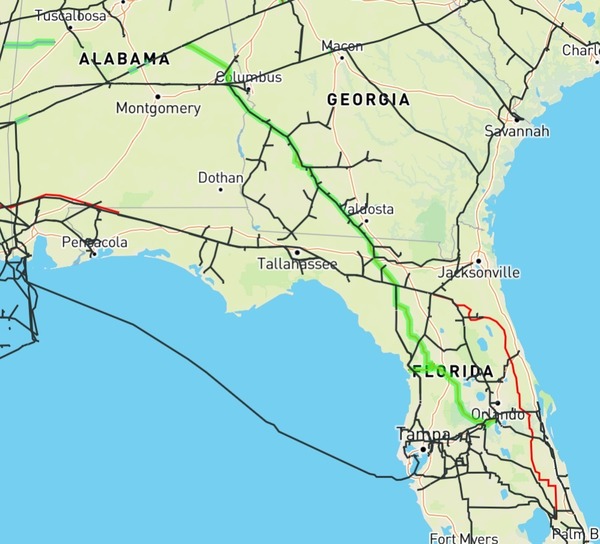 Sabal Trail in green, Transco and FSC in black, in Sierra Club interactive map of gas pipelines.
The Riverkeepers weren't buying FERC's ignorance: Continue reading →