Update 2019-10-03: More like 35 counties. See instead recently updated WWALS Counties and Cities.
Can you remember all 23 counties in the WWALS watersheds, and the thirty or more cities and towns? I can't, so I made a new WWALS web page on WWALS Counties and Cities, with population comparisons and maps. Some of it may surprise you.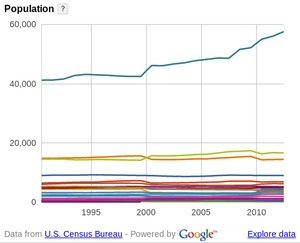 The Alapaha River starts way up in Turner County, and runs right through Nashville in Berrien County, Lakeland in Lanier County, Statenville in Echols County, and near Jasper in Hamilton County, Florida. These counties and cities are the core of the Alapaha River Water Trail. Come see the middle of that Trail this afternoon: Alapaha River @ US 84: endpoint of Sunday's WWALS Outing 24 August 2014.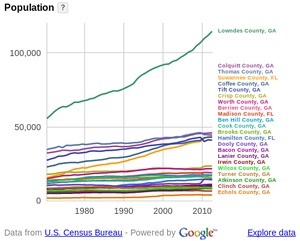 Thomas County is the third most populous WWALS county, but only a tiny part of it is drained by a creek that runs into the Withlacoochee River. Come float down the Withlacoochee River between Madison and Hamilton Counties in Florida, and continue onto the Suwannee River in the September 2014 WWALS Outing, Springs, shoals, and pipeline: Withlacoochee and Suwannee Rivers 21 Sep 2014.
-jsq
Short Link: