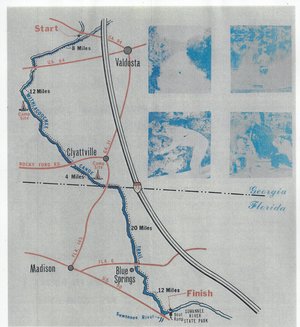 Including both Florida and Georgia, a second river got map and guide attention back in the 1970s. To be updated in the Withlacoochee River Water Trail.
This Withlacoochee River guide is courtesy of John Leonard, Executive Director of the Southern Georgia Regional Commission (SGRC).
I would speculate that it is the most recent of the three guides posted thus far, because the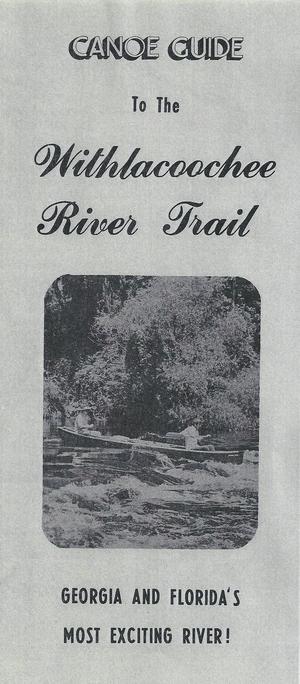 Canoe Guide to the Alapaha River Trail has four points of etiquette (litter, trees, campfires, camera), while the Canoeing Guide to the Alapaha River adds a fifth ("firearms are not necessary") and this Canoeing Guide to the Withlacoochee River adds a sixth:
6. Help protect the landowners property.
Also, this Withlacoochee Guide includes an answer to the rainy season question: March through May. This is similar to the historic highs water levels seen in Flooding charts: Withlacoochee and Little Rivers, which shows most of the gauges on the Withlacoochee River had their highest historic level in April, with other highs mostly in March and February. More on that later.
Front:
CANOE GUIDE
To The
Withlacoochee River Trail
GEORGIA, AND FLORIDA'S
MOST EXCITING RIVER!
Back:
CANOEING INFORMATION

The Withlacoochee River flows past the South's most picturesque swamplands, sandy beaches and sentinel-like limestone butts which were pitted by swirling currents ages ago. For canoeing, it has a difficulty rating of III. That is, it is fairly easy to float. There are numerous rapids and frequent bends, but the course is easy to follow. Care is needed with obstacles like overhanging limbs and fallen trees.

A word of caution. Life jackets are a must for children and recommended for adults as the Withlacoochee is, high and swift during rainy seasons (March-May). During dry periods (July-September), it may become necessary to portage over sandbars and around rapids.

Points to remember while canoeing the 56-mile canoe trail are:

Carry all litter out with you.
Do not cut or damage living trees.
Be extremely careful with campfires.
Firearms are not necessary.
Bring your camera.
Help protect the landowners property.

For further information contact:

Coastal Plain Area Tourism Council
P. O. Box 1223
Valdosta, Georgia 31601
912-247-3454
State of Florida
Department of Natural Resources
Larson Building
Tallahassee, Florida 32304
That Coastal Plain Area Tourism Council doesn't exist anymore. Soon its successor organization SGRC may have updated Alapaha River Water Trail materials. So please contact WWALS for any questions.
Map: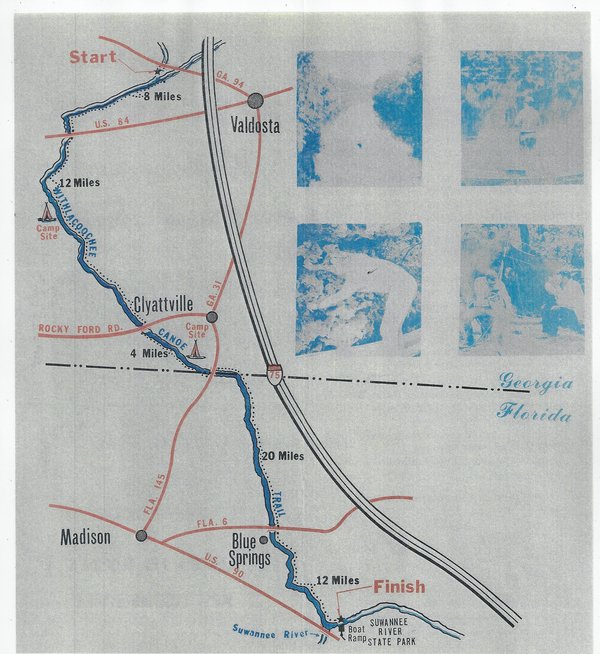 Cover: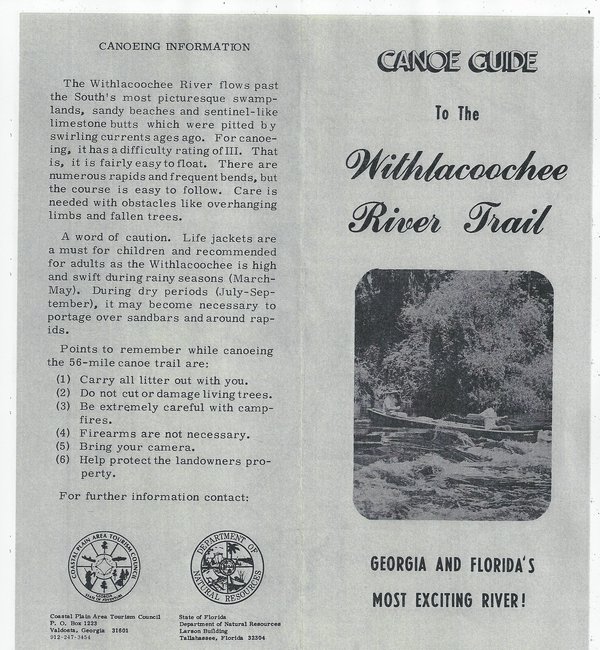 Finally, PDF in case you want to print it.
-jsq
Short Link: