Please sign this petition to Please Ban The Sabal Trail Fracked Gas Pipeline.
Congratulations to Push Back the Pipeline for convincing GA Gov. Deal and Lt. Gov. Cagle to oppose Kinder Morgan's Palmetto Project and the Georgia Dept. of Transportation to deny KMI a permit.
Now it's time for the same for the Sabal Trail Pipeline. The permitting process is different, but opposition from the state of Georgia could stop this invader, too.
While Sabal Trail has moved off our Withlacoochee River in Florida, it still wants to cross the Withlacoochee in Georgia
at the Brooks-Lowndes County line just south of US 84, between Quitman and Valdosta. Three alternate paths would come down I-75 through Tifton, Adel, Hahira, and Valdosta, right through the Valdosta limesink where the Withlacoochee River already leaks into the aquifer, which is why Valdosta's water wells are twice as deep as they once were.
The Georgia Water Coalition Dirty Dozen 2014 Item #9, Gas Pipeline Threatens Southwest Georgia Water, Way of Life, spells out why any such pipeline is a bad idea in our fragile karst limestone containing our drinking water Floridan Aquifer, plus:
Southwest Georgians are fighting an invader—one every bit as worrisome as the boll weevil that destroyed cotton harvests in the 1900s, except this one takes farmers' land as well as crops.
Sabal Trail also threatens the Ochlockonee, Flint, and Chattahoochee Rivers in Georgia, along with several rivers in Alabama, and the Suwannee and Santa Fe Rivers in Florida, while wanting to gouge between them a hundred-foot right of way for a yard-wide explosive pipe.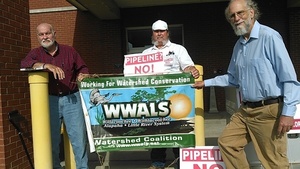 Sabal Trail just sued a third Georgia landowner trying to get Georgia eminent domain for surveying without permission, this time in Moultrie, Colquitt County, which is in WWALS watersheds. WWALS President John S. Quarterman and Ambassador Dave Hetzel joined SpectraBusters, Longleaf Earth First, and others to support the landowner there.
People in Atlanta Metro, please sign this petition. You're surrounded: it's not just Sabal Trail in southwest Georgia and Palmetto in southeast Georgia, there's also Williams Transco's Dalton Expansion Project to your west and Kinder Morgan's Elba Island LNG export terminal next to Savannah. Plus, Spectra Energy, co-owner of Sabal Trail, was going to run its Renaissance Project 36-inch fracked methane pipeline from Tennessee through northeast Alabama and northwest Georgia to DeKalb County until they decided to do Sabal Trail instead. Spectra could still decide to revive that long explosive bomb aimed right at Atlanta.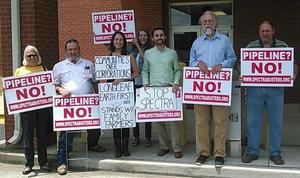 You don't even have to be in Georgia to sign this petition. Alabama and Florida are also in the invasion path of this Houston-based pipeline.
The fracked gas would come from the Marcellus Shale in Pennsylvania, where Williams Transco wants to build their Atlantic Sunrise pipeline to feed Transco through Maryland, Virginia, North Carolina, South Carolina, and Georgia to feed Sabal Trail, as well as the Cove Point LNG export terminal in Maryland, and Elba Island LNG export near Savannah. The same Williams Co. employee represents both Atlantic Sunrise and Transco's Hillabee Expansion Project that would feed Sabal Trail.
Hillabee would expand the same Transco path in Alabama that blew up in 2011, leaving a 50-foot crater and 65 acres of incinerated trees. That was just one of many Williams Company leaks and explosions, and Spectra Energy's safety record is at least as bad.
Spectra and Williams are in cahoots in Washington State and Oregon to ship fracked gas from British Columbia and elsewhere to LNG export from Oregon. As an Oregonian summed it up:
"I guess we could stand having a 232-mile IED in our backyard if it is really benefits the public. But who, exactly, is the public here?"
The public of Georgia, Florida, Alabama, and the U.S. would not benefit from any of these pipelines, not now that solar power is faster, cheaper, far cleaner and needs no eminent domain to take people's land for explosive pipes. Even LNG export to profit these Houston invaders by selling to countries with higher methane prices would not only run up the price of U.S. domestic natural gas, it would impede solar power progress in those other countries.
If even Georgia can pass a solar financing bill unanimously through the legislature, since signed by Gov. Deal, the Sunshine State and the rest of the country can get on with solar power and stop building any new pipelines.
There are even more reasons in the petition itself. Where-ever you are, please sign it.
-jsq
Short Link: