The Florida Springs Council (FSC) is concerned about Bill Gates,
Lakeland Sands and others investing in Florida and south Georgia Land for industrial farming operations, reports Chris Mericle, WWALS delegate to FSC. FSC, like WWALS, would like to know more, and is trying to contact Bill Gates to start a dialog about sustainable farming practices.
For example, Chris reports:
There is a 300 acre parcel of Lakeland Sands property here in Hamilton Co. that has been cleared of the forest that was there except for a small island of trees in the center. Within this island of trees is a true hydrogeological wonder. A beautiful spring boils from the ground, the spring pool is about 100-150 feetin diameter, the spring water flows down a short run to a sink swirling down to the Aquifer. The farmland surrounding this spring is cleared very close to the spring. I have had a SRWMD Governing Board member out to look at this spring. He was also concerned about the closeness of the clearing and had someone from the District check for compliance. As it turns out it appears that Lakeland Sands is in compliance. It really disturbs me that a large industrial farming operation can be located this close to a spring and know one seems to care.
The picture above was taken from 30° 26′ 10.78″ -83° 11′, 27.06″ on SW County Road 143. The spring itself, according to google maps, is at 30.431884, -83.197647, and used to be completely surrounded by forest.

Adams Spring is on parcel 5069-010 owned by Lakeland Sands LLC, which is one of the Bill Gates investment companies. Lakeland Sands owns two dozen parcels in Hamilton County, FL.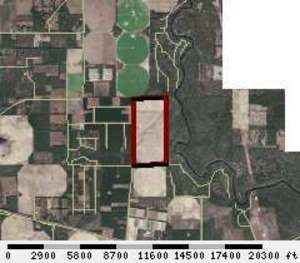 Visible west across the Withlacoochee River is Madison County Property Appraiser Parcel 04-1S-11-1497-000-000, 1272 NE BEULAH CHURCH RD, Lee, FL, owned by the same Lakeland Sands LLC.
Lakelands Sands also owns
many more acres in Madison County, FL.
What agricultural fertilizers and pesticides are running off of these Lakeland Sands lands through downstream properties into the Withlacoochee River?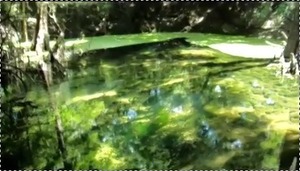 Adams Spring is also the last spring shown in this video of springs Chris made last year, where the Sabal Trail pipeline previously proposed to cross the Withlacoochee River in Florida. (Sabal Trail still proposes to cross the Withlacoochee River in Georgia.)
Here's a summary of previous WWALS research on this issue, showing thousands of acres of land purchased in Suwannee, Madison, and Hamilton Counties, Florida, and Lowndes and Echols Counties, Georgia, by Bill Gates and other west coast investors.
-jsq
You can join this fun and work by becoming a WWALS member today!
Short Link: