Sunday morning May 15th 2016, nine and more environmental organizations showed U.S. Congress member Ted Yoho FL-03 and a representative from Sen. Bill Nelson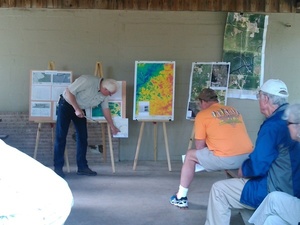 saw sinkholes much closer to Sabal Trail's proposed drill path under the Suwannee River than the pipeline company told FERC, along with two reports by local practicing geologists explaining how fissures and caverns underground extend the problem far past the artificial distance of effects Sabal Trail claimed.
Update 2016-05-17: Thomas Lynn reported in the Suwannee Democrat and Valdosta Daily Times.
Both Rep. Yoho and Suwannee River Water Management District Executive Director Noah Valenstein said at the end of the expedition that they would speak to the U.S. Army Corps of Engineers about taking into account more of these discrepancies.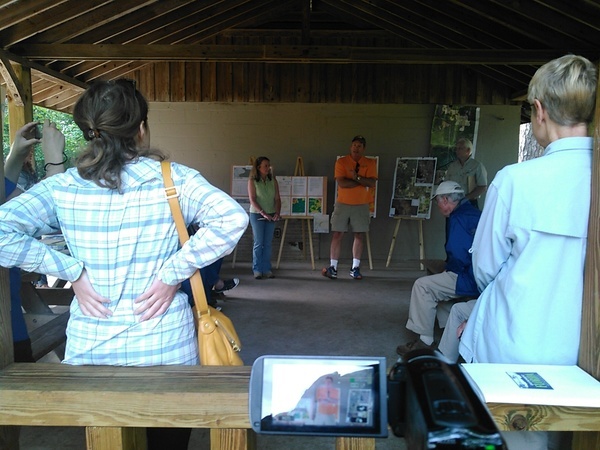 What we are specifically asking for is a Supplementary Environmental Impact Statement (SEIS) by the Corps for Sabal Trail. The Corps has done that for Keystone XL and several natural gas pipelines, so we know they can do it for this one.
You can help ask other members of Congress to ask the Corps that, as well. Here's a petition. Or look yours up by ZIP code. Remember to ask them to ask the U.S. Army Corps of Engineers for a Supplementary Environmental Impact Statement (SEIS).
I took video, which will be posted in the next few days, along with more details. For now, here is a brief summary with a few pictures. See also the photosets on facebook by Lori McCraney and Merrilee Malwitz-Jipson.
A county commissioner each from Hamilton and Suwannee Counties were there. Commissioner Beth Burnam of District 1 where Sabal Trail would enter Florida from Georgia handed Yoho the Hamilton County letter. Vice-Chairman Clyde Fleming handed Yoho the Suwannee County letter. Janet Barrow was there from Marion County, and Maryvonne Devensky, Chair of the Suwannee-St Johns Group of Sierra Club Florida, handed Yoho the Marion County letter. See also report by Jim Tatum of Our Santa Fe River.
Update 2016-05-17: Fixed previous two sentences.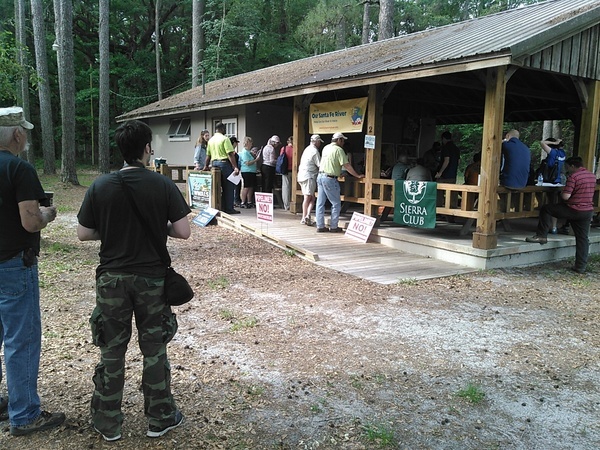 In addition, Gail Dickert of the Madison Garden Club handed Fleming the Madison County ordinance against fracking and recommended more counties pass such ordinances. And that's one reason the nine organizations listed on the itinerary and handout weren't all the ones actually present. And some of the ones listed were not there, most prominently Johanna de Graffenreid of Gulf Restoration Network, who was nonetheless very actively involved in all the planning. This was a multi-organization multi-person effort, and there are related efforts going on elsewhere.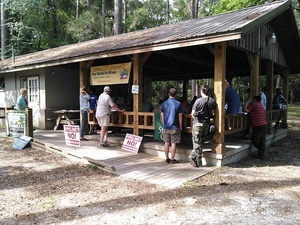 Several candidates for office were also present; their names will be in the post with the videos. In the interests of speedy reporting, I am not attempting even to name all attendees here; stay tuned for followup post.
WWALS member Deanna Mericle acted as M.C., starting by asking each person present (including the two reporters) to introduce themselves. Most distant attendee was Kimberly Williams of Environment America, who flew down from DC for the event. And this event was her idea in the first place.
WWALS board member Chris Mericle and WWALS member Dennis Price P.G. made the main presentation, after which we all piled on a school bus (thanks to Hamilton County Schools, rented by WWALS) to go see the sinkholes up close and personal, starting at Suwannee River Campsites in Hamilton County 30.4136314, -83.1592560.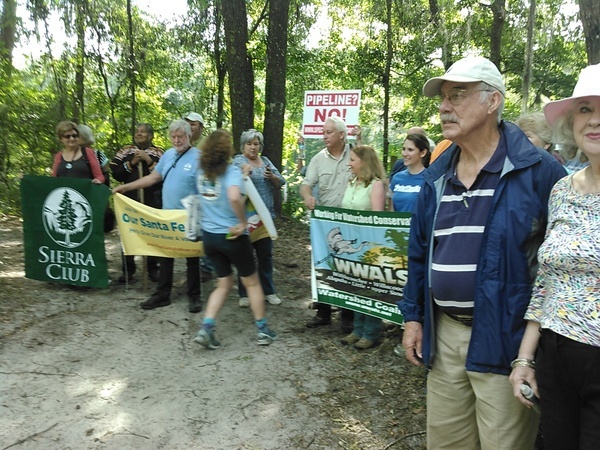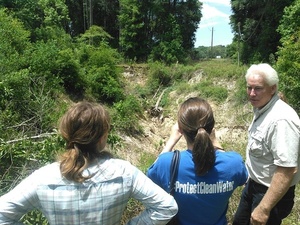 A few people stayed afterwards to go see a very big sinkhole and Falmouth Spring: Kimberly Williams, Jennifer Rubiello of Environment Florida, SpectraBusters board member Debra Johnson, Willard Randall, and reporter Jake Galvin of Florida Bulldog.
That big sinkhole must be 20 or 30 feet deep, with only a little water in the bottom. Next to it is a smaller sinkhole with a clay bottom which is a small swamp. The clay could erode out of the bottom of the small one and turn it into another big one at any time. More big ones could open up, or that big one could expand.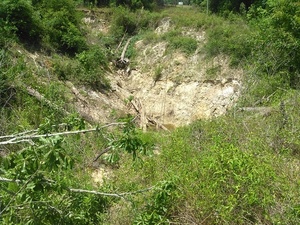 Must be 20-30 feet deep, with only a little water in the bottom 30.3718834, -83.1543350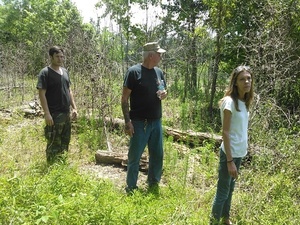 A few feet away, a smaller water-filled clay bottom sinkhole 30.3719024, -83.1543350
Here's the other side of that same big sinkhole: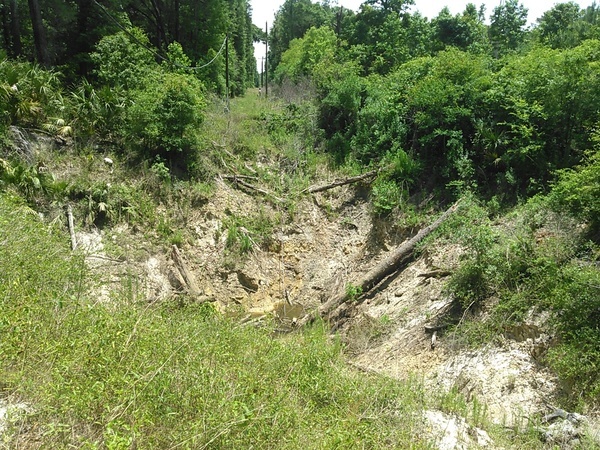 And then I turned around and took this picture of Debra Johnson standing on the edge of the Sabal Trail easement through the chicken plant on US 90. Not very far, is it? According to google maps, 30.3720303, -83.1548462, maybe 70 feet.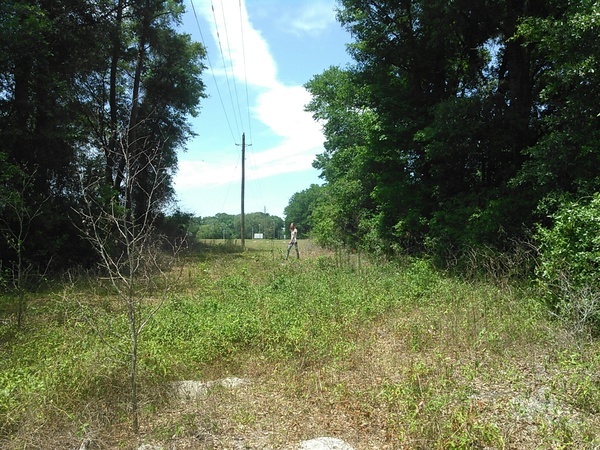 Here are some pictures of Falmouth Spring and Sink, also known as the world's shortest river (click on any picture for a bigger picture).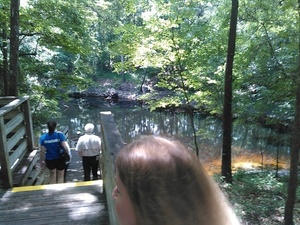 Falmouth Spring 30.3618011, -83.1347046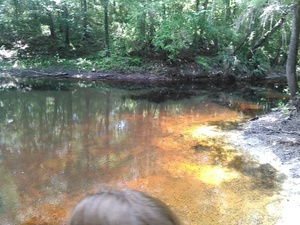 Tea-colored tannic water 30.3614406, -83.1350479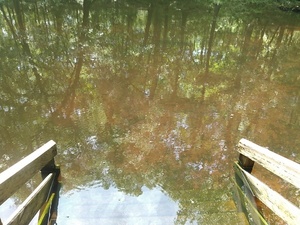 Steps for swimming 30.3613205, -83.1348114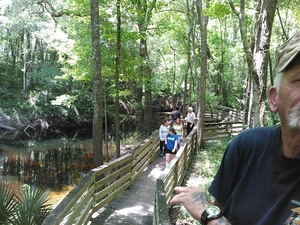 Walkway to the Falmouth Sink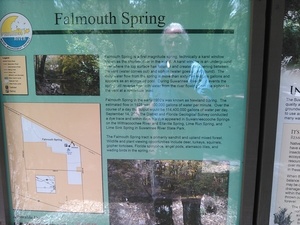 Falmouth Spring kiosk 30.3620873, -83.1345062
The kiosk at the entrance describes the Falmouth Dye Test:
September 14, 2014 the District and Florida Geological Survey conducted a dye trace and with days the dye appeared in Suwannachooche[e] Springs on the Withlacoochee River and Ellaville Spring, Lime Run Spring, and Lime Sink Spring in Suwannee River State Park.
All those springs where the dye came out are on the other side of Sabal Trail's path from Falmouth Spring. Suwanacoochee Spring is on the other side of the Suwannee River in Madison County. That dye test demonstrated water travels miles underground, so Sabal Trail's extremely narrow distances of concern are useless, and any pipeline dependant on such a flawed analysis is a risk to the Floridan Aquifer from which we all drink, as well as to private property rights, and to the Suwannee River and all the other rivers, creeks, springs, and wetlands it would cross.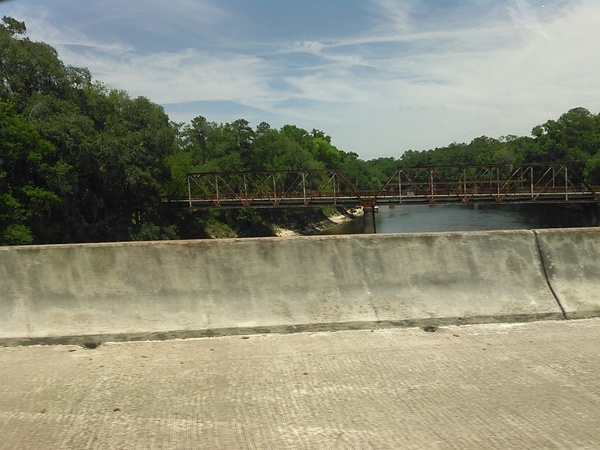 This particular event was invitation-only to keep the crowd size down to fit on a school bus. If people are interested in a repeat event, this time public, please let us know: wwalswatershed@gmail.com.
Below are the two main handouts from this event, the itinerary and Take Home Message.
PDF
Elected Officials Hike of the proposed Sabal Trail Suwannee River Crossing and discussion of the Falmouth Cathedral Cave Crossing

When: Sunday May 15, 2015, 9:00 am

Where: Suwannee River State Park
3631 201st Path
Live Oak, FL 32050

Park Entrance Fee: Waived (usually $5.00 per vehicle)

Itinerary

9:00 am-Deanna Mericle— Greeting and reason for the hike, distribution of handouts; Brief introductions of those attending. Every person state their name and association to the event (e.g. US Congressman, affected land owner, concerned citizen, Sierra Club member, local business owner, etc).

9:15 am-Chris Mericle— Presentation of Sabal Trail's discrepancies and omissions at the Suwannee River and Falmouth Cathedral Cave proposed crossing site.

9:30 am— Board bus to river crossing site, Hamilton County side. Further introductions and discussion can occur during travel.

9:45 am- Chris Mericle and Dennis Price— Hike to the crossing site, discussion of the geology, and discrepancies in Sabal Trail's information that can be seen there.

10:45 am- John Quarterman— Let elected Officials know what they can do to help. Then board bus to return to Suwannee River State Park. Any further discussion.

11:00 am- Back at the State Park.— End of meeting. If any person wants to see further evidence, especially the Falmouth Cathedral Cave crossing, Chris and Deanna Mericle are willing to stay later to show attendees where the pipeline will cross under highway 90 near a large sink hole, Falmouth Spring, and Lime Run Spring, the first magnitude spring that will be affected by the pipeline.

Participating organizations include:

John S. Quarterman, President
WWALS Watershed Coalition,
the WATERKEEPER® Affiliate
for the upper Suwannee River
www.wwals.net, 229-242-0102

Merrillee Malwitz-Jipson
Policy Director
Our Santa Fe River
OurSantaFeRiver.org
386-243- 0322

Debra Johnson
Board Member
SpectraBusters, Inc.
Spectrabusters.org
386-209-5886

Maryvonne Devensky
Suwannee-St Johns Group
Sierra Club, Florida Chapter
Ssjsierra.org
352-871-1606

Mary Gutierrez
Executive Director
Earth Ethics, Inc.
www.earthethics.us
850.549.7472

Johanna de Graffenreid
Coastal Campaign Organizer
Gulf Restoration Network
Healthygulf.org
336-429-9730

Jennifer Rubiello
Environment Florida
State Director
www.environmentflorida.org
(727) 327-3138

Jennette Gayer
Environment Georgia
State Director
www.environmentgeorgia.org
404-370-1764

Kimberly Williams
Environment America
Clean Water Network Coordinator
www.environmentamerica.org
202-683-1250×356

Thanks to the Hamilton County, FL School Board for a bus, paid for by WWALS Watershed Coalition, Inc.
PDF
Take Home Message
Elected Officials Hike, May 15, 2016
Sabal Trail Pipeline crossing at the Suwannee River
and Falmouth Cathedral Cave System

What Sabal Trail has Said
What is Actually True
The closest karst feature to the proposed pipeline route is 750 feet from the center-line where the horizontal directional drilling (HDD) under the Suwannee River will occur between mile marker 266.8 and 267.3. (Suwannee River State Park)
The closest karst feature to the proposed pipeline route between mile marker 266.8 and 267.3 is directly on the center line, with several active sinkholes 50-75 feet away from the center line.
Southeastern Geology's report says "sinkhole features too numerous to locate but very evident on the Lidar Map (every blue feature)."
Sabal Trail has repeatedly stated that they used LiDAR (technology for surveying distance) imaging to evaluate the proposed route. Sabal Trail has also stated that field surveys provide more detailed site specific data.
If Sabal Trail used LiDAR or field surveys at the Suwannee River Crossing site, why did they not find the numerous sinkhole features that Southeastern Geology's report finds. Also, why can't STT produce the LiDAR data even when a U.S. Congressman's office asks for it?
The closest first magnitude spring to the pipeline route is Madison Blue Spring at 1.7 miles.
The closest first magnitude spring to the pipeline route is Lime Run Spring at the Suwannee River State Park, less than a mile away. Lime Run Spring is the outlet for the spring conduit called the Falmouth Cathedral Cave System.
Falmouth Cathedral Cave system is approximately 100 feet below the ground surface where the pipeline will cross under highway 90 and the CSX railroad.
According to Southwestern Geology's report, the Falmouth Cathedral Cave System lies approx. 30′ below land surface. This puts this cave/spring conduit at great risk of collapse at the area where the pipeline will be drilled under Highway 90 and the CSX Railroad.
The rivers are the base of the groundwater flow system and are the discharge areas. There is little or no flow beneath the river. Potential impacts would be confined to the vicinity of the HDD crossing.

Dye tests have shown interconnectivity between different springs, indicating flow under the rivers.  For example, Suwanacoochee, Ellaville, Lime Run, and Lime Springs have all been shown to be connected to the Falmouth Cathedral Cave System across many miles.

Suwannee River Water Management District maps show several spring conduits that pass under the Suwannee and Withlacoochee Rivers, showing that water does indeed flow under the rivers. Deep wells in the region, some miles from the river, turn tannic in color as the river water rises. It only takes a few days for the tannic water to make its way through the porous rock and caverns to these wells.

Any impacts from this pipeline will be felt for miles.  

We are asking our elected officials to:

Ask the Army Corps of Engineers to come see the sinkholes and springs for themselves.
Ask the Army Corps of Engineers for a Supplemental Environmental Impact Study. Publicly object to the Army Corps of Engineers issuing their permit(s) in the current proposed pipeline route.
Support a General Accounting Office (GAO) investigation of the Federal Energy Regulatory Commission (FERC) for all pipeline projects. http://cqrcengage.com/delawareriverkeeper/app/write-a-letter?0&engagementId=191844

Addresses for the U.S. Army Corps of Engineers:

To:

Florida:
U.S.A.C.E.
Jacksonville District Reg. Div.
Jacksonville Permits Section
Attn: Mr. Mark R. Evans
Post Office Box 4970
Jacksonville,Florida 32232
(904) 232-2028
Mark.R.Evans@saj02.usace.army.mil

Georgia:
Commander, U.S.A.C.E.
Savannah District
Attn: Mr. Terry C. Kobs
1104 N. Westover Boulevard, Unit 9
Albany, Georgia 31707
(229) ­430-­8566
terry.c.kobs@usace.army.mil

Alabama:
U.S.A.C.E.
Mobile District Reg. Div.
Montgomery Field Office
Attn: Mr. James S. Cherry II
605 Maple Street
Building 1429 Room 105
Maxwell AFB, AL 36112-6017
(334) 953-2172
cesam-pa@usace.army.mil

Re: Application Numbers: SAS-2013-00942 (GA), SAJ-2013-03030 (FL), SAM-2014-00655-JSC (AL)

Applicants: Sabal Trail Transmission, LLC, Attn Mr. George McLachlan;
                  Florida Southeast Connection, LLC, Attn: Mr. Randall LaBauve;
                  Transcontinental Gas Pipe Line Company, LLC, Attn: Ms. Karen Olson

Participating organizations include: [same as for Itinerary.
-jsq
You can join this fun and work by becoming a WWALS member today!
Short Link: