It's not the Gates Foujndation: it's his private investment arm. And Lakeland Sands is not the only LLC shell corp he's using to buy up land in Suwannee, Hamilton, and Madison Counties, FL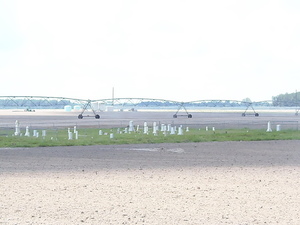 and Lowndes and Echols Counties, GA; see /issues/corpag/.
Dan Hilliard, Citrus County Chronicle, 31 July 2016, Bill Gates and the death of Florida's iconic springs,
…while the degradation of South Florida waters receives national attention, contributions of big agriculture — exemplified by operations owned by Bill Gates — to the deterioration of North Florida waters have gone largely unnoticed.

Throughout North Florida, over-pumping of the Floridan aquifer and over-use of nitrogen fertilizer have led to strongly reduced flows and high rates of pollution in our rivers and our 1,000-plus artesian springs. North Florida has more natural springs and more "first-magnitude" springs than anywhere in the world.

…

Some of the largest agricultural operations in the Suwannee watershed are owned by Mr. Gates. A single Gates investment group — Lakeland Sands — pumps over 20 million gallons of groundwater daily. The total amount of water controlled by Gates' subsidiaries is probably much larger. I assume that Gates' agricultural operations are not in Florida to reduce world hunger, but simply to make money that is funneled to the philanthropic activities of the Gates Foundation. This is a noble end, but along the way, these investments are compromising the health and welfare of North Florida.

The Florida Springs Council (FSC), a consortium of 35 citizens groups representing over 125,000 Floridians, was formed in 2015 to promote springs restoration. FSC members have driven the back roads to inspect Gates's purchases. Agricultural operations on these properties are not state-of-the-art, but more intensive versions of what was practiced by prior owners. We have seen crops planted to the edges of county roads and next to sinkholes. We have seen healthy forests cleared and replaced by intensive animal operations and row-cropping over the most vulnerable portions of the Floridan Aquifer, source of our springs and our drinking water.

For a year, FSC has repeatedly asked Gates's representatives to begin a discussion of advanced agricultural practices that could be utilized on their properties. Given his philanthropic focus, we hoped that Mr. Gates or the Gates Foundation would be eager to embrace creative methods for reducing agriculture's impact on Florida's natural environment. We have yet to receive a response.

FSC does not challenge Lakeland Sands' right to farm, but we do believe that opportunities exist for innovative practices that could lessen impacts on our precious rivers and springs. We stand ready to begin a discussion with Mr. Gates' representatives on restoring health to North Florida's troubled waters.

Mr. Hilliard is chairman of the Florida Springs Council and may be reached at www.springsforever.org
-jsq
You can join this fun and work by becoming a WWALS member today!
Short Link: