The idea is to stop wildfires coming out of the Okefenokee Swamp as they encounter a one-mile buffer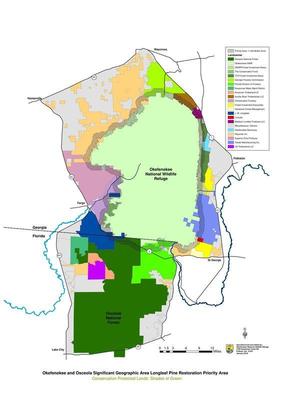 of longleaf pine that has already had regular prescribed burns, according to Hunter Bowman, who sent this map of where the Okefenokee-Osceola Local Implementation Team works.
I live 60 miles west of that new buffer, yet I remember vividly the smoke from the 2007 fires, which even put people in the hospital farther west in Quitman, GA. All that smoke, not to mention runoff from the burned area, can't be good for our waters.
A large image of the map is below, and PDF is on the WWALS website. As you can see, the Suwannee River above Fargo is entirely within the subject area, with the buffer crossing it as it exits the Okefenokee Swamp. The buffer continues all the way around, also through the St Marys and Satilla watersheds.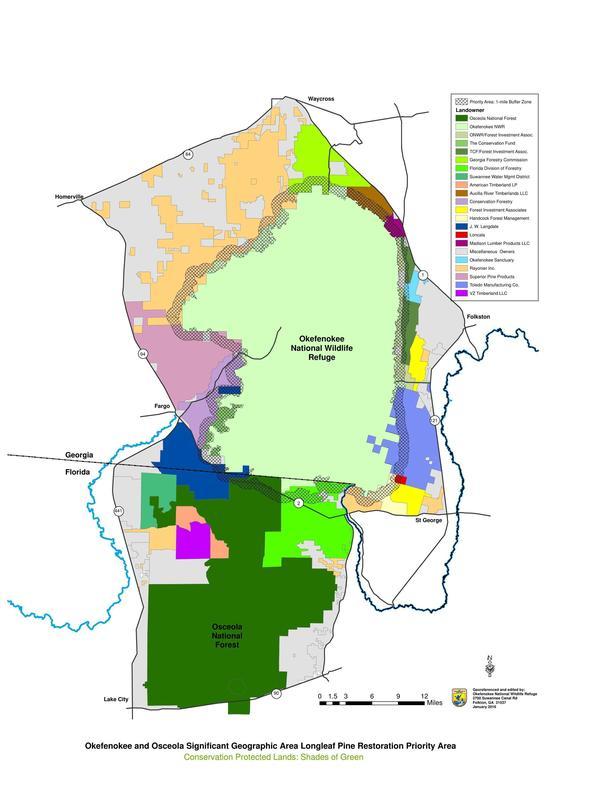 Photo: Moderate Resolution Imaging Spectroradiometer (MODIS) on NASA's Terra satellite, April 17th 2007, courtesy NASA Earth Observatory.
Forest fires are natural, especially in southern pine fire forests, but apparently the land around the swamp wasn't so well maintained back then. The first fire was caused by a tree falling on a power line on Sweat Farm Road west of Waycross in April 2007. That Sweat Farm Road Fire spread and became the Big Turnaround Fire. Smoke from the Sweat Farm Road Fire was observed by NASA streaming to Jacksonville, Daytona Beach, and out into the Atlantic. "It soon combined with a number of nearby lightning-caused fires to create the Georgia Bay Complex, one of the largest wildland fires in the South's history."
According to the Georgia Forestry Commission (GFC), Georgia Wildfires of 2007: Summary of Facts and Costs for Recovery, GFC spent a record $62 million on control efforts, and "More than 3,300 people from 44 states worked to control the wildfires." The value of timber lost to private landowners was $58 million, with estimated replanting cost of $30 million.
Smoke from one of those, the Bugaboo Fire at the southern end of the swamp in Georgia and Florida, snaked all the way down the Suwannee Basin into the Gulf of Mexico.

Photo: Moderate Resolution Imaging Spectroradiometer (MODIS) on NASA's Terra satellite, May 11th 2007, courtesy NASA Earth Observatory.
The 2007 fires were the worst, but far from the first and not the last: a 2011 fire burned for ten weeks and closed all entrances to the Okefenokee National Wildlife Refuge during the July 4th weekend. So this well-maintained longleaf buffer seems like a good idea.
-jsq
You can join this fun and work by becoming a WWALS member today!
Short Link: