Part of this longleaf pine forest grant from a major utility is partly in WWALS watersheds, in the Okefenokee Swamp and Osceola National Forest, in the upper Suwannee River basin.
Southern Company PR, July 6th 2016, Southern Company and partners award 10 longleaf conservation grants,
Continuing its longstanding tradition of supporting natural resource conservation, Southern Company, in partnership with the National Fish and Wildlife Foundation (NFWF), today announced $4.3 million in grants to support, restore and enhance the longleaf ecosystem. The grants include funding for 10 projects in the Southeast states where Southern Company operates electric utilities.


Longleaf Pine Forest | Credit: Christine Ambrose

The 2016 grants will support 21 projects that are a part of NFWF's Longleaf Stewardship Fund, a landmark public-private partnership that includes the U.S. Department of Agriculture's U.S. Forest Service and Natural Resources Conservation Service, the U.S. Department of Defense, the U.S. Fish and Wildlife Service, Southern Company, International Paper's Forestland Stewards Initiative and Altria.

These projects will ultimately restore more than 14,800 acres and enhance more than 230,000 additional acres of longleaf pine habitat across the historic longleaf range. The 10 projects supported by Southern Company will impact more than 194,000 acres, of which nearly 10,000 acres will be newly planted longleaf.

"Through collaborative partnerships with the National Fish and Wildlife Foundation and others, Southern Company is providing real solutions to aid in the restoration of the historic longleaf pine ecosystem," said Southern Company Chief Environmental Officer Dr. Larry S. Monroe. "We are proud to support this important effort to conserve and protect wildlife and habitat, benefiting the communities we are privileged to serve."

The Longleaf Stewardship Fund builds on the success of the Longleaf Legacy program, a partnership between Southern Company and NFWF, which for eight years invested more than $8.7 million in projects to restore more than 87,000 acres of longleaf pine forest and the native species that rely on the habitat. Another 20,000 acres were restored through the company's closely aligned Power of Flight program with NFWF.

"The $4.3 million in Longleaf Stewardship Fund grants announced today will build on the successes achieved through this powerful, longstanding public-private partnership," said Jeff Trandahl, executive director and CEO at NFWF. "The grants will support a range of critical conservation actions, including longleaf plantings, invasive species control and the use of prescribed fire for longleaf restoration. These projects will benefit a wide array of wildlife, including rare species such as the red-cockaded woodpecker, gopher tortoise, indigo snake and dusky gopher frog."

Unique to the United States, the majestic longleaf pine ecosystem once covered more than 90 million acres across nine states from Virginia to Texas, but had declined to less than 3 percent of its original area. With the diverse public-private commitment to longleaf pine restoration over recent years, longleaf pine forest acreage has increased from roughly 3 million acres to an estimated 4.7 million acres, halting and reversing a century-long decline and benefiting many threatened and endangered species.

Five of the 10 projects supported by Southern Company are located in significant geographic areas for longleaf pine conservation, which are areas anchored by federal lands including military bases, national forests and national wildlife areas.

The 2016 Longleaf Stewardship Fund projects supported by Southern Company include:…

The Okefenokee-Osceola Local Implementation Team (Georgia/Florida) will establish 300 acres of longleaf pine and improve management of an additional 61,250 acres of existing longleaf habitat on public and private lands. Management activities will reduce hazardous fuel loads in one of the most fire-prone areas of the U.S. Partners will continue a successful collaboration with the Jacksonville Job Corps Center to train young people to serve on longleaf restoration teams. Partners will also conduct longleaf restoration workshops for at least 200 private landowners.
Half of each of the Okefenokee Swamp and the Osceola National Forestis in the eastern edge of WWALS' Upper Suwannee River watershed.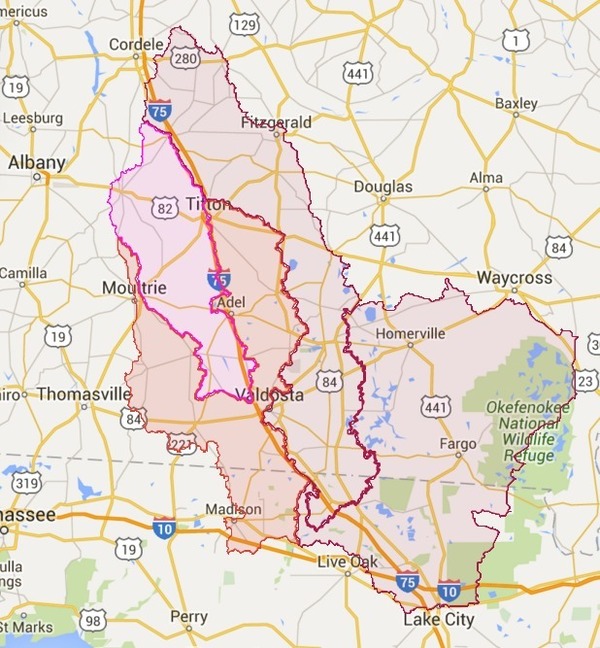 Alan Dozier, America's Longleaf, PR, Spring 2016, Okefenokee and Osceola Local Implementation Team Update,

Photo by Alan Dozier for O2LIT

The Okefenokee National Wildlife Refuge hosted our quarterly LIT meeting in January. International Forest Company provided lunch as well as a presentation on their genetic improvement work with longleaf pine seedlings. We also had Donald Imm and Mike Harris with the USFWS Ecological Services give an informative presentation on listing of the Black Pine Snake in southern Mississippi and southwest Alabama. We also took this opportunity to review and revise the Okefenokee/Osceola Local Implementation Team (02LIT) Conservation Plan. Following the meeting, Okefenokee Adventures provided a short excursion through the Suwannee Canal and into the Okefenokee prairies.

02LIT has a 2016 Longleaf Stewardship Fund RFP in the hopper, so to speak, with the theme being capacity building for longleaf pine restoration in the Significant Geographic Area. Plans are to certify a new group of Natural Resources Conservation Service Technical Service Providers as a way to facilitate more forest management plans and to extend funding of the Longleaf Forester position currently supported by a grant from the Dobbs Foundation. If approved, the grant will also support continuation of the Job Corps Burn Team.

02LIT coordinator, Alan Dozier, has announced his second retirement and will be stepping down from the position. The Nature Conservancy will be recruiting to fill this slot so that restoration can move forward with plans that were put in place over the first two years of the team.
It's good to see Southern Company is not just buying pipeline companies. SO is also assisting ecosystem restoration.
-jsq
You can join this fun and work by becoming a WWALS member today!
Short Link: