With speakers from the far south of Florida (Tim Canova from Miami) and north (Suwannee Riverkeeper John S. Quarterman) and everywhere between, you can come to Dunnellon, Florida, and walk to Rainbow Springs to hear and speak about the destruction the Sabal Trail fracked methane pipeline is wreaking right now less than half a mile from Dunnellon High School before it gouges under the other Withlacoochee (south) River from Marion County into Citrus County down to Crystal River, in addition to its main path down past Orlando which with Florida Southeast Connection sends bomb trucks and trains to Miami and Jacksonville.
When: 10:30 AM, Saturday, January 28, 2017
Where: 11012 Williams St, Dunnellon, FL 34432-8319
Event: facebook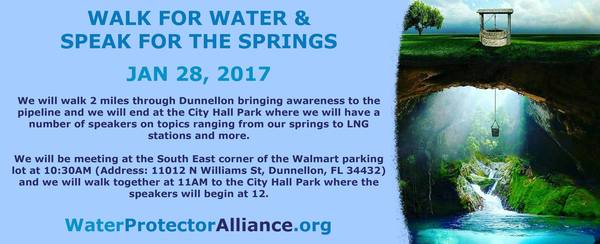 Please sign Tim Canova's peition to Stop the Sabal Trail Pipeline. You can help push it above 100,000 signatures.
This is just one of several water protector events in Florida this weekend, and I hear there's one in Atlanta, Georgia, as well. If you can't go to this one, you can go to one of those, or stay home and call or write your member of Congress and ask them to rein in the rogue agency FERC that granted federal eminent domain for this destructive, hazardous, and unnecessary fracked methane pipeline boondoggle.
-jsq, John S. Quarterman, Suwannee RIVERKEEPER®
You can join this fun and work by becoming a WWALS member today!
Short Link: