The Palm Beach Post heard of the shooting and did a story, in which Sabal Trail claims their construction is "on target" when clearly it is not.
Susan Salisbury, Palm Beach Post, 3 March 2017, Sabal Trail pipeline shooter killed by law enforcement in Citrus County,
The $3.2 billion natural gas pipeline is slated to begin bringing fuel to Florida Power & Light's South Florida plants by June. The pipeline has been the subject of numerous protests by people who say its construction and presence will harm the environment and threaten the water supplied from the Floridan Aquifer, but this is the first death known to have occurred in connection to pipeline opposition.
And the opposition has never killed or injured anyone.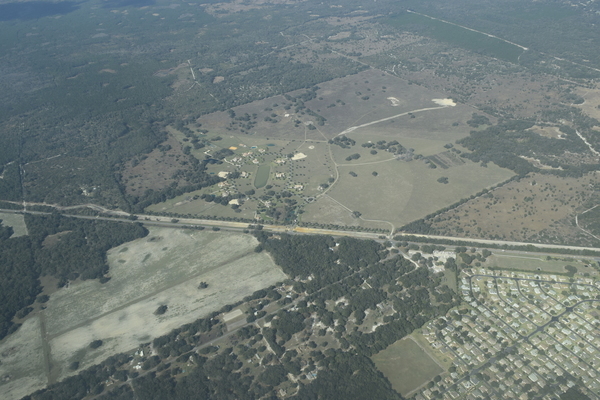 Bell Lago, 14130 SW 121st Court, Dunnellon, FL 34432, 29.0170900, -82.3227090
Photograph by Mark Skogman on Southwings flight for WWALS 2017-02-07.
The deceased was identified as James Leroy Marker of Chokoloskee, a remote island off Collier County.

The Florida Department of Law Enforcement is conducting an ongoing investigation, and could not provide any new information, FDLE officials said Friday….

The suspect caused extensive damage to a section of the pipeline in Marion County. As Marion County Sheriff's Office deputies were responding to the pipeline construction site in the 12500 block of Highway 200 in Dunnellon, the suspect fled into Citrus County….

John Quarterman, Suwannee Riverkeeper, said as far as he knows, no one involved in any pipeline opposition has ever heard of Marker prior to the incident.

"As the first person ever to call for protests on the pipeline this is not what I called for," Quarterman said Friday.
Here are some things you can do to stop the pipeline.
Sabal Trail spokeswoman Andrea Grover said in a statement Friday, "Sabal Trail is aware of the unfortunate event on February 26, 2017 in Marion and Citrus Counties involving law enforcement and a private citizen in proximity of the pipeline. No Sabal Trail workforce was working in the area at the time of the event. Our top priority is for the safety of the community and our employees. We are working with law enforcement and our construction contractors to evaluate security measures along the pipeline and are cooperating with law enforcement regarding the data collection of damage to the pipe and equipment. The project remains on target to be operational by end of June 2017.
Well, June was not the target, so they're not "on target".
NextEra Energy, News Release, 26 July 2013, FPL selects Sabal Trail Transmission and Florida Southeast Connection to build new natural gas pipeline system into Florida,
Due to the substantial cost of building this new natural gas transportation system, the RFP also noted that NextEra Energy would be willing to consider financial involvement in support of a selected proposal to facilitate timely construction to meet the critical May 2017 in-service date.
Let me repeat that: the critical May 2017 in-service date.
So by Ms. Grover's quote in the Palm Beach Post, Sabal Trail admits it has missed that critical May 2017 in-service date.
Could that be because of opposition?
Here are some things you can do to help stop this unnecessary, destructive, and hazardous boondoggle.
-jsq, John S. Quarterman, Suwannee RIVERKEEPER®
You can join this fun and work by becoming a WWALS member today!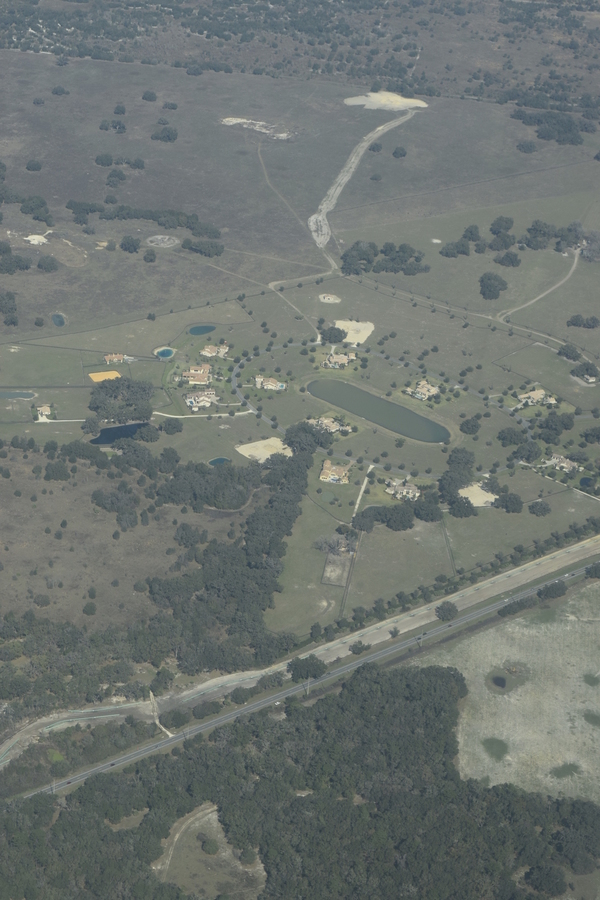 Photograph by Mark Skogman on Southwings flight for WWALS 2017-02-07.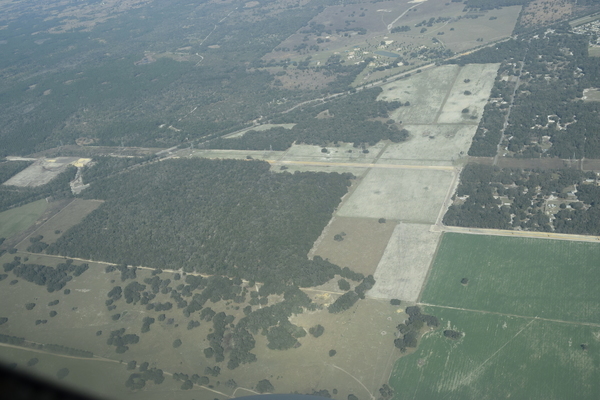 Upper left: Halpata Tastanaki Preserve
Left to right: beginning of Citrus County Line, Dunnellon Compressor Station, FL-200, Bell Lago, Spruce Creek Preserve Community.
Bottom: Sabal Trail heading south towards Orlando.
Photograph by Mark Skogman on Southwings flight for WWALS 2017-02-07.
Short Link: