Update 2017-08-11: Complaint filed with OSHA.
The smell of hazardous Mercaptan "would come and go" for at least two days starting August 5, 2017, and Sabal Trail had been doing some sort of work at the Dunnellon Compressor Station starting the previous day, although they hadn't bothered to inform local first responders.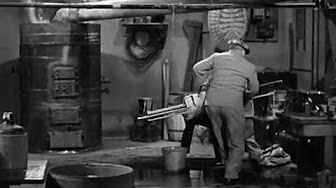 Still from The Three Stooges: A Plumbing We Will Go, Columbia Pictures, 1940
Only two weeks after the July 16-17 stink leak, Sabal Fail again caused expense for Marion County Fire Rescue in sending trucks and personnel. Unlike the private Sabal Trail Transmission LLC, Marion County responded to an open records request, and here are the narrative incident reports.
The mysterious "Dave" now has a truck number, 80856, although we still don't know whether he's a contractor or not.
Incident 2017-052424 2017-08-05 14:18:52:
E-31 dispatched for odor investigation around the 140000 block of hwy 200 and the pipe line. UOA to the area a strong smell of mercapatn was in the air at this time, E-31 assumed command and added command staff and Hazmat. Contact was made to the company that services the pipe line and they advised a responder was enroute. E-31 crew donned an air pack to conform no visible active leak, none noted. The smell would come and go. Pipe line personnel, Dave truck # 80856 on scene (approximately 1602). After going up to look at the service area he returned to advise there was a mercaptan leak and he had shut down the system to fix it. Once district 4 arrived and advised of the situation all MCFR units cleared. Dave called back at approximately 1629 to advise system was back up running correctly.
Marion County Fire Rescue appears to be getting a bit tired of getting called to that Sabal Trail site.
Incident 2017-052501 2017-08-05 20:03:53:
E31 DISPATCHED TO ODOR IN AREA FROM SABAL TRAIL GAS LINE, E31 RESPONED TO PERVIOUS. E31 WAS CANCELLED BY DC4.
It seems the mysterious "Dave" now has a last name, as in
E31 STAGED AT HWY 200 & ENTRANCE, E31 CONTATCED DAVE RUNOWSKI WITH NO ANSWER UPON INITAL CALL. HE CALLED BACK WITHIN 15MIN AND ADVISED HE WAS ENROUTE TO THE LOCTATION.
So Marion County Fire Rescue got to the site, Sabal Trail had nobody there, and Dave Runowski didn't even answer the phone on first call.
Incident 2017-052584 2017-08-06 06:06:33:
E31 RESPONDED TO ADDRESS GIVEN FOR POSSIBLE GAS LEAK WHICH IS IN THE AREA OF THE SABAL TRAIL NATURAL GAS LIFT STATION.IT SHOULD BE NOTED THAT E31 RESPONED TO THE SAME AREA THE PERVIOUS DAY FOR ODOR. DAVE RUNOWSKI WITH SABAL TRAIL CAME OUT. DAVE ADVISED THAT THE SYSYTEM WAS BEING WORKED ON FRIDAY. HE COMPLETED HIS CHECK OF THE FACILITY AND ADVISED THAT THERE IS A MERCAPTON LEAK AND HE WOULD BE TAKING CARE OF IT. DAVE ADVISED THAT NO HEALTH OR SAFEY CONCERNS. E31 STAGED AT HWY 200 & ENTRANCE, E31 CONTATCED DAVE RUNOWSKI WITH NO ANSWER UPON INITAL CALL. HE CALLED BACK WITHIN 15MIN AND ADVISED HE WAS ENROUTE TO THE LOCTATION. E31 NOTICTED A SLIGHT MERCAPTON SMELL PRESENT. DAVE RUNOWSKI ARRIVED ON SCENE AND COMPLETED A CHECK OF THE SYSYTEM AND ADVISED ALL IS WORKING WITH NO FAULTS. E31 WAS COMPLETE
Sabal Trail didn't cause the only natural gas pipeline alarm to Dunnellon Fire Rescue.
TECO pipeline Incident 2017-052360 2017-08-05 08:38:31:
Units dispatched reference gas leak. UOA found that landscapers had dug around a gas line and cut it with the shovel. The line was actively leaking before the meter. Power was shut off by the homeowner to the home and the one next to it. All units cancelled, E10 awaited TECO gas to arrive. E10 put a vise clamp on the pipe which substantially slowed the leak. Teco technician dug and completely clamped the line. No fire hazards noted and E10 was released by TECO. Nothing further was required.
TECO is the same company on behalf of which Kinder Morgan expanded the Florida Gas Transmission (FGT) pipeline in its Jacksonville Expansion Project (JEP) from Sabal Trail in Suwannee County to Eagle LNG in Jacksonville, which is already exporting LNG via Crowley Maritime.
The TECO cut was apparently a tiny line leading to a house. Imagine if it was the 36-inch Sabal Trail pipe broken by a backhoe. That would be more like this:
"Are you ready Niagara Falls? Let 'er go!"
Except instead of water it would be explosive methane, and could look like the 2008 Transco explosion at Appomattox, Virginia:
Except that one, like so many others, wasn't caused by a backhoe: it was corrosion.
Despite a $1 million PHMSA fine and corrective order, Transco had another corrosion explosion three years later in Marengo County, Alabama. Nothing PHMSA does, just like assurances from FERC, ever seems to stop corrosion, leaks, and explosions.
Spectra Energy (now Enbridge) has a three-decade rapsheet of corrosion, leaks, and explosions, including the infamous 1994 Durham Woods Apartment Fire in Edison, NJ that evacuated thousands, made hundreds homeless, and scared one woman to death. That may not be much comfort to, for example, the Florida Highlands subdivision just across FL 200 from the Sabal Trail Compressor Station and even closer to the pipeline.
Please, nobody say they'd just move it by truck or rail instead. Because of Sabal Trail, Florida will now have truck and rail bomb cars and ships for LNG export.
Meanwhile, solar panels don't leak or explode and they've already won the economic race, no matter how much customer and taxpayer money FPL keeps wasting on the Sabal Trail pipeline boondoggle and the Turkey Point nuke boondoggle. The people of Florida voted twice in 2016 for solar power. It's time for the sun to rise on the Sunshine State.
There are still things you can do.
-jsq, John S. Quarterman, Suwannee RIVERKEEPER®
You can join this fun and work by becoming a WWALS member today!
Short Link: