WWALS Acting Executive Director Gretchen Quarterman said:
These are all the tickets that we sold. And these are the ones that Shirley sold. These are the ones that came from Phil. These are the ones that came from Hulaween. These are the ones that came from Skillet Fest….
Look, a bird!
Shirley Kokidko at the WWALS Okefenokee Outing, Sunday, December 10, 2017, refocused the camera on the proceedings. Then more ticket sources: Suwannee River Roots Revival, Hahira Honeybee Festival, Alapaha Station Celebration, and online. The online tickets were transcribed onto paper just like all the others.
Gretchen said, "We sold 370-some tickets." and proceeded to shake the box of tickets.
We picked Dennis Price to do the actual drawing, because he did not buy a raffle ticket. After thorough stirring, he picked the winner, as you can see in the video:
The winner is: Chris Newton.
Chris donated at Hulaween to get one kayak raffle ticket, and his ticket is the lucky winner. "Stop it!" he said on the phone when I told him that. He lives on the Atlantic coast of Florida, and we're organizing with him about meeting in the middle to get him the kayak.
Thank you Malibu Kayaks for the generous donation of the Trio-11 Fish and Dive Kayak for our fundraiser, and thank you John Phillip Ramsey for organizing that. We appreciate your support.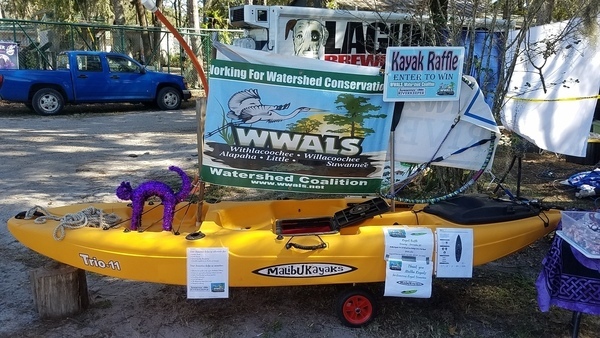 And thank you to all those who participated in the raffle, helping us to raise money for our on-going projects. All proceeds go to support the work of WWALS Watershed Coalition, because Malibu Kayaks generously donated the kayak.
-jsq, John S. Quarterman, Suwannee RIVERKEEPER®
You can join this fun and work by becoming a WWALS member today!
Short Link: