It's a shell game: much of Sabal Trail's early January burst to maximum capacity went back out through the Gulfstream pipeline in Osceola County, which sent it to a Duke Energy Florida peaker plant in Intercession City and to Florida Gas Transmission (FGT). Presumably some of Sabal Trail's peak went directly to FPL, but some of it apparently went through Gulfstream to get there. Yet apparently none of it was needed, since in the coldest week of the winter so far, Sabal Trail went back down to almost zero.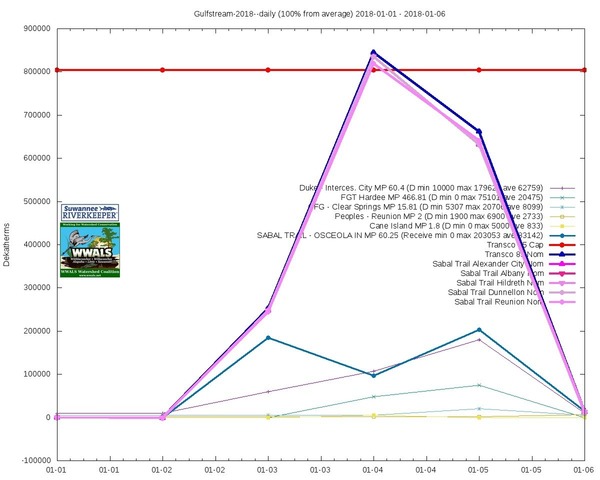 Using data from the various pipeline's own FERC-required daily information postings, Gulfstream shows "SABAL TRAIL – OSCEOLA IN MP 60.25" suddenly bumping up from zero to about 200,000 Dekatherms/day on January 3 and 5, during Sabal Trail's burst, and then dropping back in synchronization. This is at the "Central Florida Hub" south of Disney World that interconnects Sabal Trail with Gulfstream and FGT. This Hub has always been a selling point for Sabal Trail. But if FGT and Gulfstream are already supplying 60% of Florida's electricity, as Sierra Club pointed out back in March 2014, and Sabal Trail bursting merely causes other pipelines to backhaul and peaker plants to fire briefly, why is Sabal Trail needed?
Obviously these Gulfstream postings don't show where all of Sabal Trail's gas went, but enough of it to be quite interesting. Gulfstream also shows "Duke – Interces. City MP 60.4" bursting up from 10,000 to 179,628 on January 5th. Gulfstream lists its Intercession City Plant as:
The 14-unit, 951-megawatt Intercession City Plant is a peaking facility located near Intercession City, Fla. The first six units began operation in 1974, with additional units added in 1993, 1997 and 2000.
Specifically that plant is located at what shows up on google maps as Central Florida Pipeline Company, 6525 Osceola Polk Line Rd, Davenport, FL 33896, 28.264987, -81.547790. That just happens to be right next to the interconnection of Sabal Trail with its lateral the Hunters Creek Pipeline at the Reunion Compressor Station.

Photo: Mark Skogman for WWALS on Southwings flight 2017-02-07, Begin Hunters Creek Pipeline at Reunion Compressor Station past Central FL Pipeline Corp.
The above graph showed Gulfstream locations with maxiumums more than 100% above average for 1-6 January 2018. This graph selects for 50% and also shows Gulfstream sending gas out to "FGT Hardee MP 466.81", which is presumably an interconnection to Florida Gas Transmission in Hardee County, Florida. (FGT's own postings show gas coming in from Gulfstream at Hardee, but this graph is complicated enough.)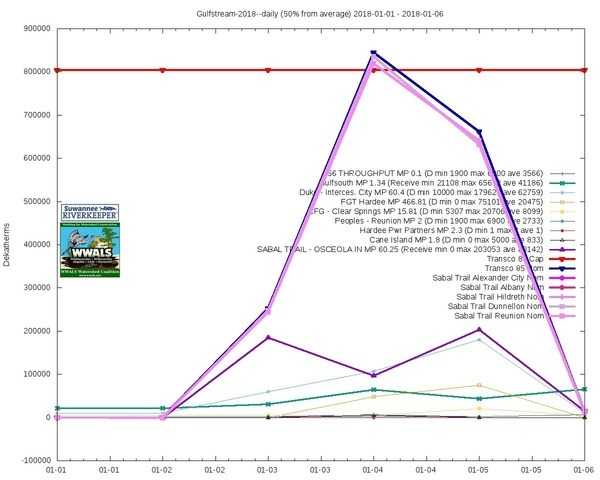 Shown on this graph is "Cane Island MP 1.8". Presumably that would be the Florida Municipal Power Agency Osceola County Power Plant at Cane Island, which Power Engineering says is mostly a peaker plant run by Kissimmee Utility Authority (KUA).

Photo: Mark Skogman for WWALS on Southwings flight 2017-02-07, KUA Cane Island Power Plant, Bobroff Road, Kissimmee, FL 34758, 28.2746506, -81.5308592
Filtering for only 25% max above average, we also see Gulfsouth receiving from Gulfsouth MP 1.34 and from DEFS Mobile Bay MP 1.34, but those don't seem to correlate, and the latter is presumably on the other side of the Gulf.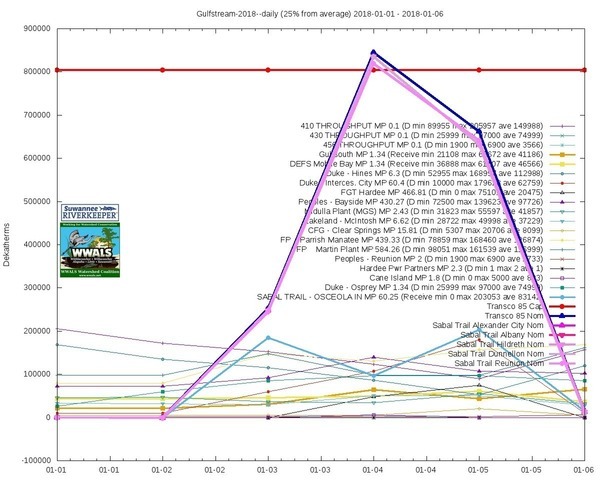 The 25% graph shows two more Duke plants: "Duke – Hines MP 6.3" and "Duke – Osprey MP 1.34". Duke does not explicitly describe those two as peaker plants, but it looks like maybe they were used that way last week.
And we see on the 25% graph "FP&L Parrish Manatee MP 439.33" and "FP&L Martin Plant MP 584.26". Why are you having to send gas through Gulfstream to get to FPL's Martin Plant, Sabal Trail? FPL is the only customer remaining in your customer index; can't you send gas to them directly?
Meanwhile, it's all a shell game, with all the big pipeline companies into Florida shuffling gas among themselves and to peaker plants. Nothing about Sabal Trail's burst up and right back down during the coldest week yet demonstrates any need for Sabal Trail. Do your job, FERC: shut it down.
-jsq, John S. Quarterman, Suwannee RIVERKEEPER®
You can join this fun and work by becoming a WWALS member today!
Short Link: