Emmett Carlisle sent in a song from Gainesville, Florida, saying about himself:
I am working on my 8th CD of original songs, many about the History, Environment and Characters of Florida. I play at most of the Festivals including the Florida Folk, Will Mclean, Lake County Folk Festival and others.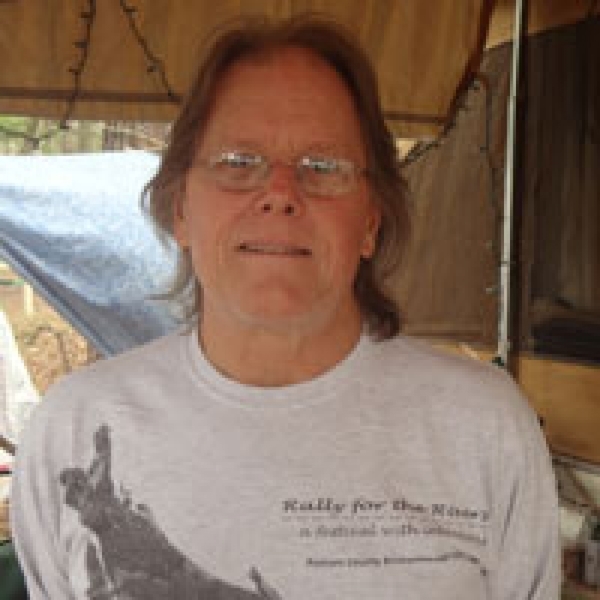 Emmett Carlisle, North Florida Folk Network
Three judges from Florida and Georgia will choose from finalists from three states to award prizes in the Suwannee Riverkeeper Songwriting Contest, Saturday, June 23, in Valdosta, Georgia. Each finalist has a good chance to win the first prize of $300. Or the $50 prize for a finalist from within the Basin, or the $50 prize for a finalist from outside, plus there will be a prize for one finalist in each musical genre or style. Gainesville isn't actually in the Suwannee River Basin, but many of the paddlers on the Suwannee and its tributaries and springs come from there.
We've already posted about three other finalists chosen by the Songwriting Contest Committee:
We'll post about more contestants in upcoming days. We're not giving out their song titles, lyrics, or music: for those come to the contest and hear them live!
Where: The Salty Snapper, 1405 Gornto Rd, Valdosta, GA 31602
When: 1-5PM, Saturday, June 23, 2018
Tickets: $10 each online or $12 at the door
For more details: see Suwannee Riverkeeper Songwriting Contest, 2018-06-23.
About WWALS: Founded in June 2012, WWALS Watershed Coalition, Inc. (WWALS) advocates for conservation and stewardship of the Withlacoochee, Willacoochee, Alapaha, Little, and Suwannee River watersheds in south Georgia and north Florida through education, awareness, environmental monitoring, and citizen activities. John S. Quarterman is the Suwannee Riverkeeper®, which is a staff position and a project of WWALS as the Member of Waterkeeper® Alliance for the Suwannee River Basin.
Contact: Eileen Box
WWALS Songwriting Contest Committee Chair
386-647-7240

John S. Quarterman, Suwannee Riverkeeper
WWALS Watershed Coalition
song@suwanneeriverkeeper.org
850-290-2350
PO Box 88, Hahira, GA 31632
You can join this fun and work by becoming a WWALS member today!
Short Link: