Come join WWALS and 10,000 of our closest friends at VSU this Thursday:
When: 1PM to 4PM, Thursday, August 24, 2017
Where: Front lawn, VSU, 1500 N Patterson St., Valdosta, Georgia 31698
Event: facebook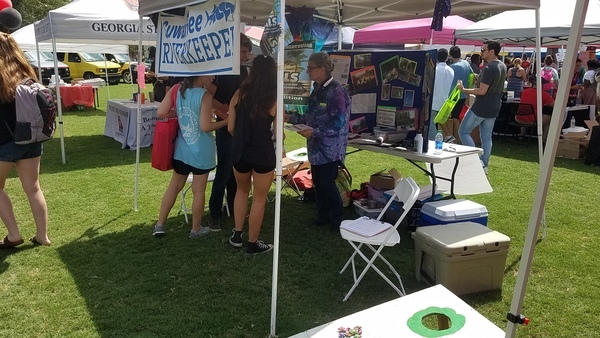 Gretchen talking to students, picture by John S. Quarterman for WWALS, 2018-08-23.
Gretchen will not be back in time this year, so we really need volunteers. Come on down! It's fun!
Jessica Pope, Newsroom, VSU, 15 August 2018, The Happening Returns to the VSU Front Lawn Aug. 23,
Sponsored by VSU's Office of Student Life, The Happening is an opportunity for students to have fun in the South Georgia outdoors while learning more about what the university and the surrounding community have to offer them.

The Happening is also an opportunity for on-campus organizations, programs, offices, and departments and off-campus businesses, religious organizations, nonprofits, and civic groups to introduce and market themselves to thousands of students, face to face, at one time, in one location.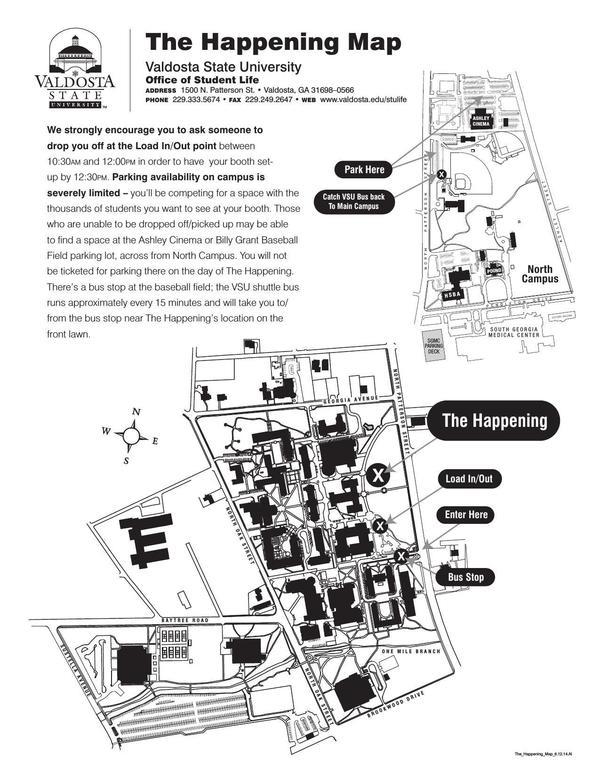 As it says on VSU's The Happening Map:
We strongly encourage you to ask someone to drop you off at the Load In/Out point between 10:30am and 12:00pm in order to have your booth setup by 12:30pm. Parking availability on campus is severely limited — you'll be competing for a space with the thousands of students you want to see at your booth. Those who are unable to be dropped off/picked up may be able to find a space at the Ashley Cinema or Billy Grant Baseball Field parking lot, across from North Campus. You will not be ticketed for parking there on the day of The Happening. There's a bus stop at the baseball field; the VSU shuttle bus runs approximately every 15 minutes and will take you to/ from the bus stop near The Happening's location on the front lawn
You don't have to be there as early as a vendor if you're just attending, but parking will be an issue. Best to get somebody to drop you off at the parking lot just inside and to the right of the main VSU entrance from Patterson Street.
-jsq, John S. Quarterman, Suwannee RIVERKEEPER®
You can join this fun and work by becoming a WWALS member today!
Short Link: