Noelani Mathews of WCTV stopped off at the origin of the AGL pipeline that goes to Homerville, on her way to the site of the Friday explosion. Her story should be on the air at 5PM and 6PM tonight.

WARNING
HIGH PRESSURE
NATURAL GAS
Atlanta Gas Light,
An AGL Resources Company
She asked me pipeline context questions, which I answered as best I could, given that the origin is on my property in Lowndes County, Georgia.
She remembered reporting from that same location back in 2016.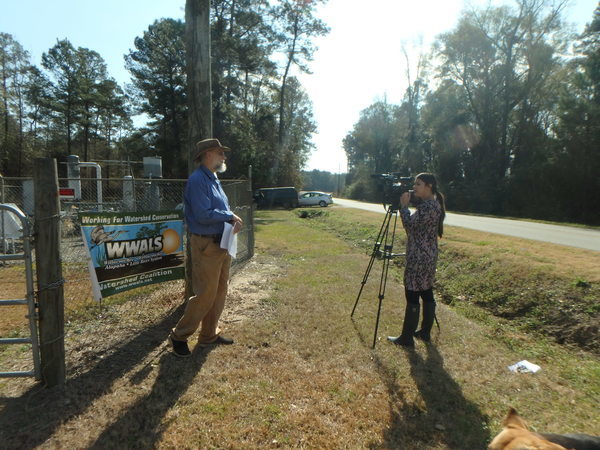 Picture of John S. Quarterman, president of WWALS Watershed Coalition, Inc. being interviewed by Noelani Mathews of WCTV by Gretchen Quarterman, WWALS Treasurer, for WWALS, 27 January 2016.
Then it was merely backdrop about the much larger Sabal Trail pipeline. This time, according to AGL's own pipeline map, this is the same pipeline that blew up in Homerville. You can tell it starts right where we were standing, because the SONAT pipeline it connects to turns right there and goes due north. See also LAKE blog post for more detail.

Atlanta Gas Light Company Pipeline System
The first thing I said was that the explosion sounded pretty bad, and then I learned three women had been taken to the hospital with third-degree burns, so it's even worse. I hope they get better. Also I hope that the business has insurance.
I didn't say, but should have, that if there's any shortfall in insurance coverage for the medical bills or rebuilding, AGL or Southern Company should think about paying the difference, regardless of who is found at fault by the Georgia Public Service Commission. After all, without their WARNING HIGH PRESSURE NATURAL GAS there would have been no explosion.
-jsq, John S. Quarterman, Suwannee RIVERKEEPER®
You can join this fun and work by becoming a WWALS member today!
Short Link: