Gas from a tiny pipeline demolished a business and sent three women to the hospital yesterday with third-degree burns, plus it shut down Homerville, Georgia, for a day.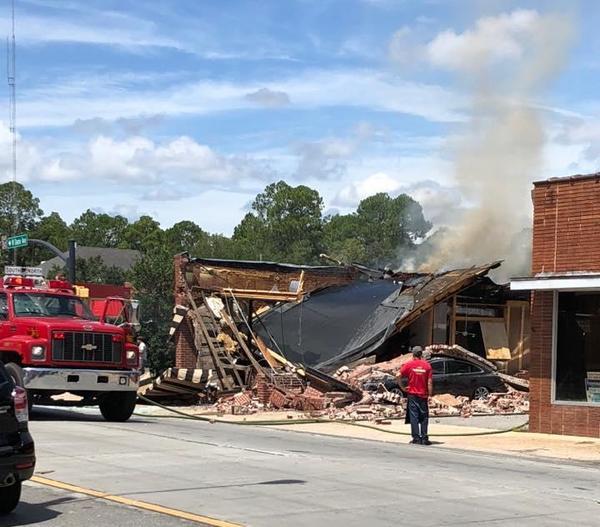 Hosing down remains of Coffee Corner, Clinch County News, photo by Laura Nipper.
First and most detailed with this story is Clinch County News, and it has been carried by the Associated Press all over the U.S. and beyond.
Apparently only WCTV thought to ask about the pipeline, which is owned by Atlanta Gas Light, aka AGL Resources, and since Southern Company bought that in 2016, Southern Company Gas. Unless Southern Company comes back with a different route, the maps say that pipeline starts in Lowndes County, Georgia, on my property.
Here is Noelani Mathews of WCTV reporting about the Sabal Trail pipeline in January 2016, from where that AGL pipeline takes off from the Southern Natural Gas (SONAT) pipeline to Nashville, Georgia, which was broken by a dirt road ditch puller in 2014.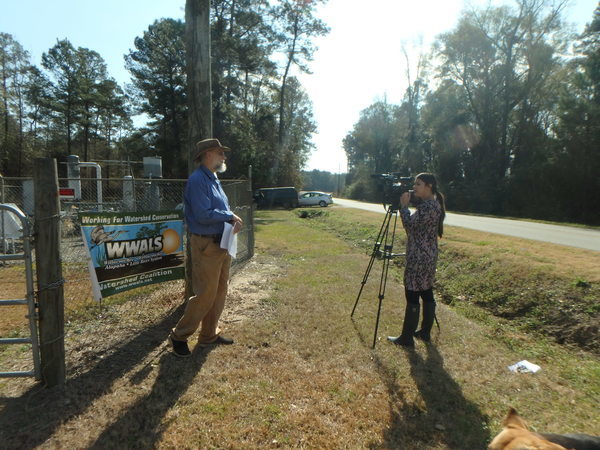 Picture of John S. Quarterman, president of WWALS Watershed Coalition, Inc. being interviewed by Noelani Mathews of WCTV by Gretchen Quarterman, WWALS Treasurer, for WWALS, 27 January 2016.
Southern Company also owns half of SONAT since 2016.
The AGL gas station, origin of the line to Homerville, is visible in the background.
No more pipelines. Solar power now.
For much more detail on this incident and the pipelines, see the LAKE blog post Homerville, GA pipeline explosion 2018-08-17.
-jsq, John S. Quarterman, Suwannee RIVERKEEPER®
You can join this fun and work by becoming a WWALS member today!
Short Link: