Update 2019-09-14: We've moved downstream, to put in at Naylor Boat Ramp and take out at Mayday Landing. This section does have some rough rocky spots with rapids for a short distance. The takeout at Mayday is a little difficult due to soft sand to climb up to the parking area. Bring plenty of water to drink and food for the day. Bring a PFD to wear. Plan to arrive early enough to unload gear and begin the shuttle to the take out.
Experience the wilderness of the Alapaha River Water Trail. The water is barely above our recommended low, so bring a rope in case we have to drag boats.
When: 8 AM, September 15, 2018
Put In: Naylor Boat Ramp @ GA 84, 6955 US 84 E, Naylor, GA 31641. Lowndes County hasn't actually built the boat ramp yet, but they have bought the park and we can put in there, just west of the Alapaha River off of the north side of US 84.
GPS: 30.92507, -83.03867
Take Out: Mayday Landing @ Howell Road, 749 Howell Road, Stockton, GA 31649, in Echols County. We will all help each other drag boats up the steep sand slope.
Bring: the usual personal flotation device, boat paddles, food, drinking water, warm clothes, and first aid kit. Also trash pickers and trash bags: every WWALS outing is also a cleanup.
Free: This outing is free to WWALS members, and $10 (ten dollars) for non-members. We recommend you support the work of WWALS by becoming a WWALS member today!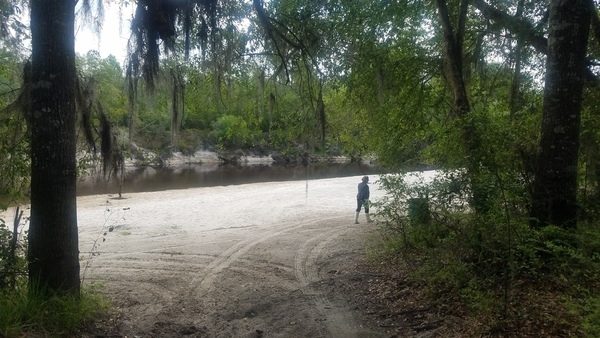 Naylor Boat Ramp beach with trash can Gretchen asked for, 2018-06-16.
Duration: 7-9 hours.
Shuttle distance: 11 miles one way
Shuttle duration: 40 minutes total
This outing includes the traditional WWALS shuttle. Everybody takes their boats to the put-in, most people drive to the take-out, and the drivers pile into one or two vehicles and go back to the put-in.
Paddle distance: 11.25
Paddle duration: 6-8 hours
Host: Phil Hubbard
Contact: Phil Hubbard
Gauge: Statenville, GA, USGS 02317500, Highest safe 83.1′ (7.0′). Lowest boatable 78.1′ (2.0′).
Backup: Location for this outing may be changed as water levels dictate. We've already done this, and Hurricane Florence went to North Carolina, so unless we get a freak thunderstorm, all should be well.
More:
For more WWALS outings and events as they are posted, see the WWALS calendar or the WWALS outings and events web page. WWALS members also get an upcoming list in the Tannin Times newsletter.
-jsq, John S. Quarterman, Suwannee RIVERKEEPER®
You can join this fun and work by becoming a WWALS member today!
Short Link: