Update 2018-10-28: Now at State Line Ramp! Yes, we've moved downstream, to plenty of water, no deadfalls, plus shoals, in two states (Georgia and Florida) and four counties (Lowndes, Brooks, Madison, and Hamilton).
Update 2018-10-25: See new blog post with PDF flyers including new sponsors the YMCA and Girl Scouts of Historic Georgia, plus food by Under Construction BBQ, and at the turnaround walk up to The Salty Snapper, with aerial drone photography by The Georgia Photography Fanatic.
-jsq, John S. Quarterman, Suwannee RIVERKEEPER®
You can join this fun and work by becoming a WWALS member today!
Update 2018-10-08: Early-bird $20 ticket deadline extended through October 13th!
Downstream and up again: it's the WWALS Boomerang, from Langdale Park Boat Ramp to Sugar Creek Landing on the Withlacoochee River. Join us for a fun filled day of kayak and canoe racing and leisurely paddling.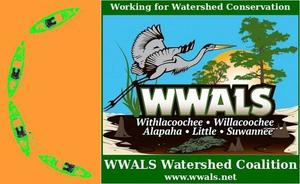 New WWALS board member Bobby McKenzie, whose son Zavier was the youngest finisher at our spring BIG Little River Paddle Race, has volunteered to organize a fall race, with the enthusiastic support of the board and the Outings Committee.
We would also like to thank George Page, Executive Director of Valdosta-Lowndes County Parks and Recreation Authority (VLPRA), for his and VLPRA's support. VLPRA renovated Langdale Park last year, so let's go boat from there.
When: 11:00 AM, November 3, 2018
Put In: Langdale Park Boat Ramp, 3781 N. Valdosta Rd., Valdosta, GA 31602. This is just outside the Valdosta City limits in Lowndes County, off of North Valdosta Road (US 41 North). Only 5.5 miles from downtown and only 4 miles from Valdosta State University.
GPS: 30.88727, -83.32395
Tickets: $20 per boat through extended October 13, then $30.
We also recommend you support the work of WWALS by becoming a WWALS member today!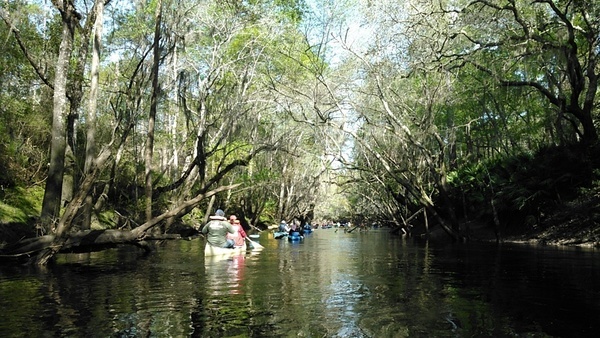 Withlacoochee River, 2016-03-20.
Turnaround: Sugar Creek Landing, 2410 Gornto Rd, Valdosta, GA 31602.
You can get out here if you don't want to paddle back up to Langdale Park.
From Gornto Road, park at the YMCA, then walk back up around the Valdosta lift station fence, and down the other (west side) to the river. We will have this newly-rediscovered Withlacoochee River access properly marked by then.
Take Out: Langdale Park Boat Ramp
Boats: Canoes and kayaks. Overhanging branches make paddle boards inappropriate for this event.
Start: Staggered starts based on routes and distance categories.
Paddle distance: 6 miles round trip. Markers will be placed to offer shorter turnaround options.
Paddle time: 3 hours. Your time may vary.
Bring: the usual personal flotation device, boat paddles, food, drinking water, warm clothes, and first aid kit. Also trash pickers and trash bags: every WWALS outing is also a cleanup.
WWALS will supply each boat a race bib number to wear so we can tell who you are in the pictures at the finish.
Vendors: with vested interest in conservation or stewardship of our waters.
Vendors selling anything will need a permit (it's a park).
Nonprofits: free.
Scouts, clubs, educational institutions, military, government, nonprofit dance troups or musicians, come on down.
For-profit vendors: $20 fee.
This includes local outfitters that are WWALS members, as well as bait shops, boat dealers, archery, dancers, musicians, etc.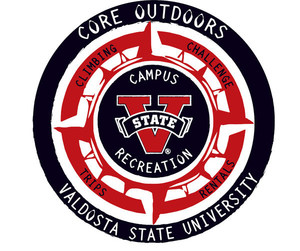 Outfitters: supporting the WWALS Boomerang so far:
CORE at Valdosta State University (renter must have some association with the university) in Lowndes County, GA, near the Withlacoochee River.
NWXpeditions, Pavo, Georgia, near the Little River in Brooks County, "No Worries Expeditions will take u canoeing and camping on the rivers of S Georgia and N Florida. We custom design the canoe trip of your dreams."
Food: We will have food and drink; details being worked out.
Volunteers: You can help organize, promote the event, get sponsors, register people, watch along the route, guide people who want to get out at Sugar Creek Landing, etc. WWALS Boomerang is being organized by the WWALS Outings Committee, so you can apply to join that Committee. If you don't want to do that, you can still volunteer at the event.
Sponsors: We'll make a sign with your organization name and logo, mention you in announcements and flyers, etc. Sponsors get to have their name associated with a fun event. WWALS gets support for the event and its work.
Host: Bobby McKenzie
Contact: Bobby McKenzie
Gauge: Valdosta US 41 USGS 02317755, Highest safe 12.7 feet, 123 NAVD. Lowest boatable 3.5 feet, 113.8 NAVD.
Backup: Location may be moved to State Line Ramp if conditions require. That's 6461 Madison Hwy, Valdosta, GA 31601, still in Lowndes County, near the Georgia-Florida State Line. All these landings are on the Withlacoochee and Little River Water Trail (WLRWT).
More: For more WWALS outings and events as they are posted, see the WWALS calendar or the WWALS outings and events web page. WWALS members also get an upcoming list in the Tannin Times newsletter.
Previous updates:
Update 2018-10-06: Last early-bird $20 ticket day and PDF flyer.
Update 2018-09-19: You can buy tickets online, and two outfitters are supporting the WWALS Boomerang.
-jsq, John S. Quarterman, Suwannee RIVERKEEPER®
You can join this fun and work by becoming a WWALS member today!
Short Link: