Update 2018-12-30: WWALS videos of that meeting.
This Tuesday, Bradford County Commissioners will schedule a public hearing on the phosphate mine application by HPS II. You can go speak or write them a letter.
If the creek don't rise, I will be there with a video camera. Meanwhile, I have sent them a letter in PDF and an updated copy of the Resolution Against Phosphate Mines in Florida. That Resolution only had five signatures when I last sent it to Bradford BOCC in May, but now 11 of the 14 Waterkeepers of Florida have signed it, and seven of us delivered it to FDEP Secretary Noah Valenstein at the end of July.
When: 9:30 AM Tuesday September 4, 2018
Where: BRADFORD COUNTY COURTHOUSE
945 North Temple Avenue, Starke, Florida 32091
What: on the agenda:
County Attorney's Report's — Will Sexton

Schedule the Public Hearing on Application for Special Permit for Mining (Sec. 14.6, LDR's) submitted on behalf of HPS Enterprise II, LLC.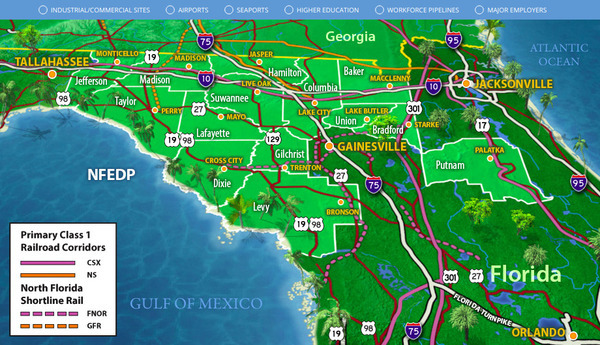 Also on the agenda is:
North Florida Economic Development Partnership FY 18-19 Funding Presentation — Jeffery Hendry, Executive Director.

Economic Development Consultant Services – $10,000.00
Membership Dues – $2,723.00
Bradford BOCC is paying money for the North Florida Economic Development Partnership (NFEDP). It doesn't make any sense for Bradford County simultaneously to be considering a phosphate mine, which would sabotage economic development. Not just for Bradford County; a phosphate mine would be bad news for the other counties in the NFEDP.
There's an update on the economic development item, which includes slides of its advantages, and also notes:
Rural Areas of Opportunity (RAO)

North Central Florida RAO

Baker
Bradford
Columbia
Dixie
Gilchrist
Hamilton
Jefferson
Lafayette
Levy
Madison
Putnam
Suwannee
Taylor
Union
Those are the same fifteen counties listed and mapped on NFEDP's web pages.
Maybe the Gilchrist BOCC should take this economic interdependence into account and write a letter to Bradford BOCC opposing the phosphate mine.
The Gilchrist BOCC agenda for Thursday, September 6, 2018 has nothing about that. The Gilchrist agenda does, however, include the Suwannee River Water Management District (SRWMD) July 2018 Hydrologic Conditions Report for the SRWMD, which shows that rainfall in the Suwannee River Basin has been higher than usual in recent months, including in Union and Bradford Counties.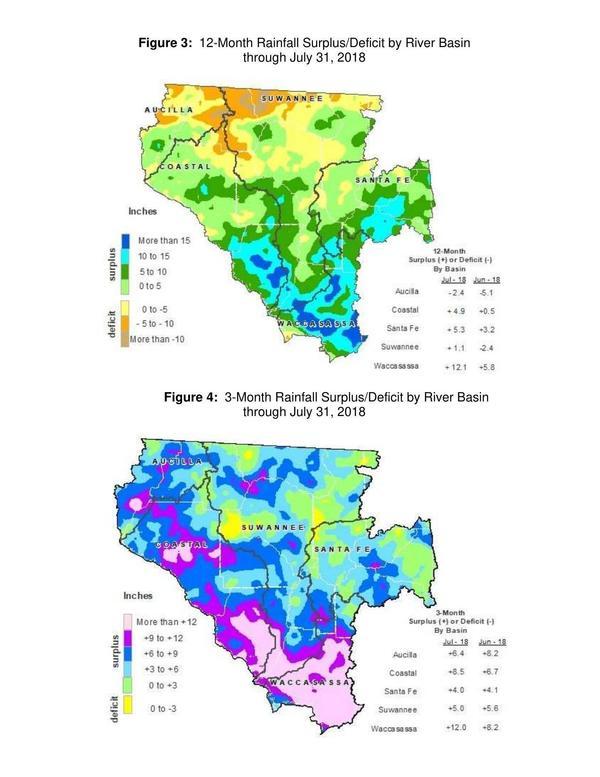 That could be bad news for downstream counties such as Gilchrist if there were a phosphate mine in Bradford County. According to FDEP's Public Notices of Pollution, the only spills in the Suwannee River Basin in Florida around Hurricane Irma (other than two vehicle accidents at Camp Blanding), were from Chemours Company mine ponds in Bradford and Baker Counties.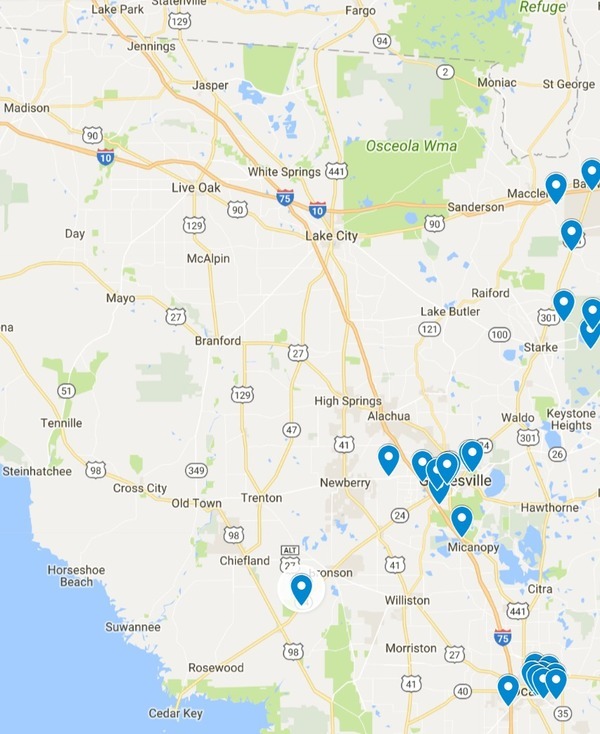 A phosphate mine could similarly overflow. Why risk it?
This SRWMD map of the entire Suwannee River Basin in Georgia and Florida provides further perspective.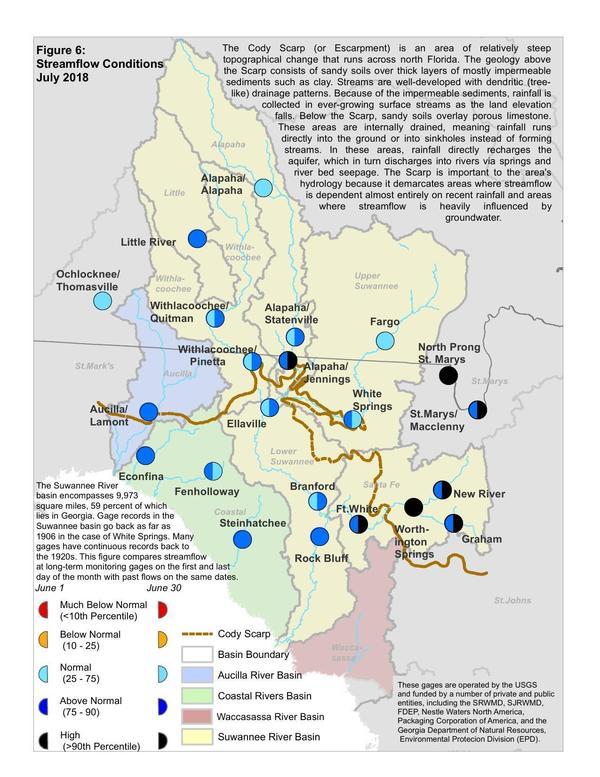 In July, streamfall was high on the Alapaha River at Jennings and on the Santa Fe River at Fort White, the cluster of three high gauges upstream in Bradford County are hard to miss. We've seen this time and again, as storms churning counter-clockwise bring Atlantic water down as rain eastwards and upstream. This makes Bradford County an especially bad place for a phosphate mine.
-jsq, John S. Quarterman, Suwannee RIVERKEEPER®
You can join this fun and work by becoming a WWALS member today!
Short Link: