Here's a piece of south Georgia history, Stone Bridge, on the Little River, between Adel in Cook County and Barney in Brooks County, on the Withlacoochee and Little River Water Trail (WLRWT).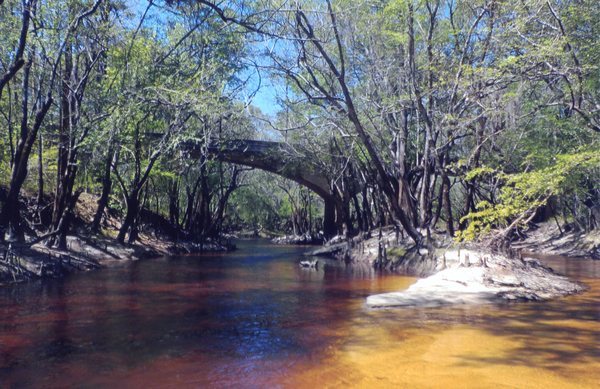 Dan Phillips wrote about this picture he took:
John, as best as I can recollect it was summer of 2016 I was paddling up stream from boat ramp there by Barney. Water level was really low.
That's Cook County Boat Ramp, for which the nearest gauge is the Hahira Gauge, USGS 02318380, at Folsom Bridge on GA 122 in Lowndes County, Georgia.
Looking at water levels from the summer solstice to the fall equinox 2016, it probably wasn't in June or July, and certainly not in September.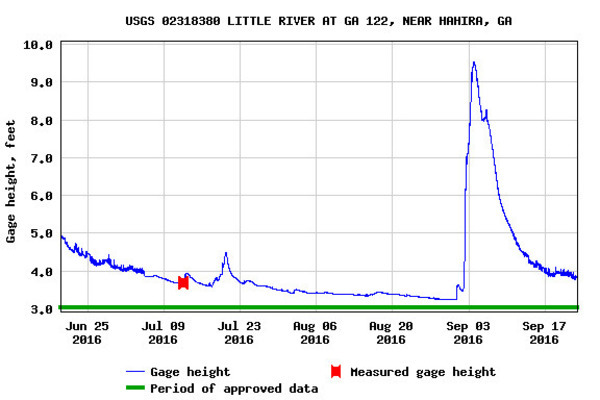 So I guessed 1 August 2016, when the water was at about 3.5 feet (136.3 NAVD88), and Dan said:
Yes that sounds about right.
We've also seen Stone Bridge in a picture by Burt Kornegay, from his March 2018 paddle down the Little River, when the Hahira Gauge was at about 9 feet (141.8 NAVD88):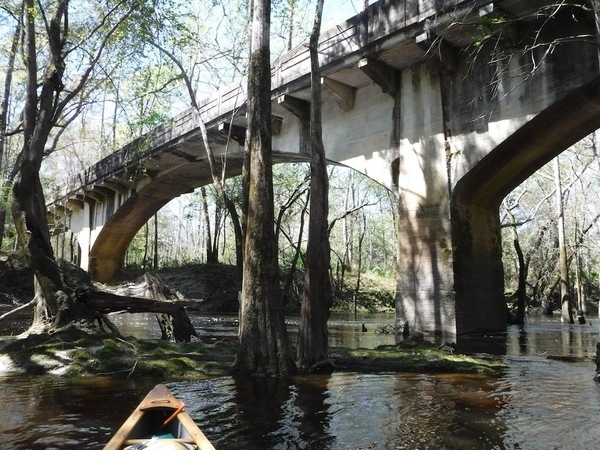 Photo: Burt Kornegay, March 2018, of Stone Bridge over Little River, SW of Adel, GA
According to the Adel News Tribune, 1 October 2014, Stone Bridge was built in 1925.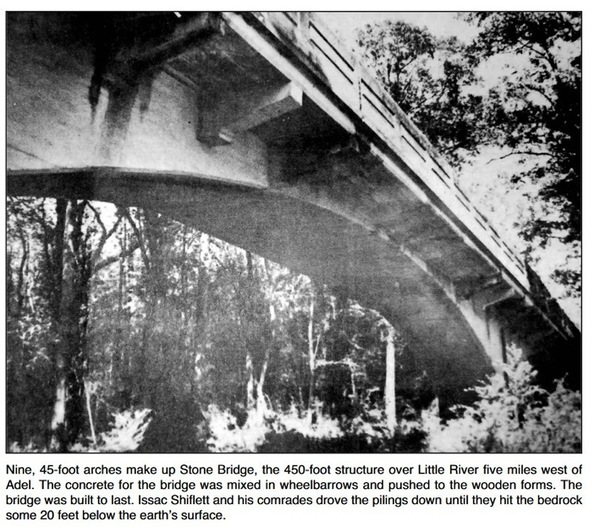 Stone Bridge, Adel News Tribune, 1 Oct 2014, Page 9-A.
The USGS Geographic Names Information System (GNIS) calls it Rock Bridge (historical). Despite the names, it was actually built out of concrete, according to that Adel News Tribune article.
If you want to visit Stone Bridge, it's slightly less than a mile upstream from Cook County Boat Ramp at GA 76. Or Stone Bridge is less than six miles downstream from Antioch Road Landing, about 1100 feet downstream of the Live Oak, Perry & South Georgia Railroad (LOPSG) railroad (RR) Bridge. There's no public access to Stone Bridge by land, but people find it worth a mile paddle upstream.
-jsq, John S. Quarterman, Suwannee RIVERKEEPER®
You can join this fun and work by becoming a WWALS member today!
Short Link: