Two more months have passed, so I called Bill Edge to ask about progress on the GA-PSC's investigation of the August 17, 2018, Homerville coffeeshop explosion resulting from AGL pipeline gas. Answer: still investigating, because so many parties are involved, and everyone has attorneys and disclosures to negotiate. He is quite aware many people would like to see a report.
I thanked him sincerely for his organization following up on this incident. He said it was their statutory duty. I said keep up the good work.
Meanwhile, here's an example of the type of thing to expect: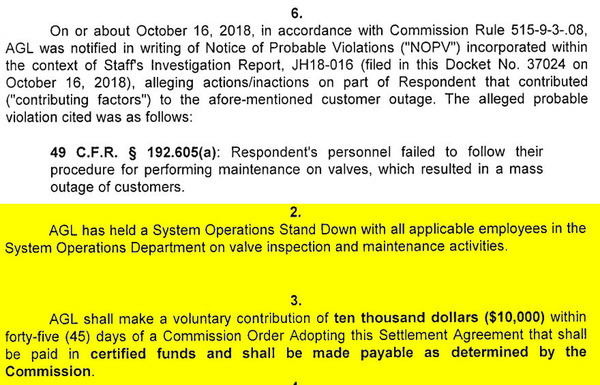 Whereas, AGL enters into this Settlement Agreement without admitting any of the facts or findings contained in the Investigation Report, Notice of Probable Violations (NOPV), or Notice of Amendment (NOA), without admitting any impropriety, without admitting any violation of any applicable rules, regulations or laws and, in particular, without admitting liability for any of the probable violations set forth herein;

GA-PSC Document Filing # 174809;
Docket: 37024;
Filed Date: 12/12/2018;
Received Date: 12/12/2018;
Company Name: Atlanta Gas Light Company;
Description: Response to Inspection Report No. JH18-016;
Attachment: Inspection Report JH18-016.pdf
AGL doesn't admit doing anything wrong and certainly no liability.
So what was it AGL doesn't admit having done, yet it is settling about?
6.

On or about October 16, 2018, in accordance with Commission Rule 515-9-3-.08, AGL was notified in writing of Notice of Probable Violations ("NOPV") incorporated within the context of Staffs Investigation Report, JH18-016 (filed in this Docket No. 37024 on October 16, 2018), alleging actions/inactions on part of Respondent that contributed ("contributing factors") to the afore-mentioned customer outage. The alleged probable violation cited was as follows:

49 C.F.R. § 192.605(a): Respondent's personnel failed to follow their procedure for performing maintenance on valves, which resulted in a mass outage of customers.
GA-PSC says AGL didn't even follow its own company maintenance procedures.
What does AGL have to do to settle this NOPV?
2.

AGL has held a System Operations Stand Down with all applicable employees in the System Operations Department on valve inspection and maintenance activities.

3.

AGL shall make a voluntary contribution of ten thousand dollars ($10,000) within forty-five (45) days of a Commission Order Adopting this Settlement Agreement that shall be paid in certified funds and shall be made payable as determined by the Commission.
Wow, $10,000!
Southern Company paid $12 billion for AGL Resources. So the fine, excuse me, "voluntary contribution," is 0.0000833% of that purchase cost.
This is not a criticism of Bill Edge or GA-PSC Pipeline Safety. This is the kind of not-really-fine Georgia statutes enable GA-PSC to negotiate. Maybe the legislature could change that.
There's plenty of opportunity to do something:
Between August 14 to August 17, 2017 Staff reported to AGLC-Corporate headquarters to perform a comprehensive inspection of the Operator's procedural manual.

…

At the time of this inspection Atlanta Gas Light Company was under sixteen previously existing probable violation(s). These violations will be addressed under Follow-Up Inspection Number AT17-026.

GA-PSC Document Filing # 174790;
Docket: 37024
Filed Date: 12/11/2018
Received Date: 12/11/2018
Company Name: Atlanta Gas Light Company
Description: Response to Inspection Report No. AT17-027.
Attachment: Inspection Report AT17_027.pdf
And those sixteen previously existing probable violations plus the ones found during that investigation were all before the Homerville explosion.
What did that August investigation of AGL procedures find? Things like this:
PROBABLE VIOLATION: The Operators emergency procedures do not address how they are receiving notices of events that require immediate response.

…

PROBABLE VIOLATION: The Operators emergency procedures do not address the actions required to be taken by a controller during an emergency in accordance with §192.631.
There are more, but this is enough to show AGL doesn't even document how they find out about leaks and explosions, nor what they need to do then.
That fits with when AGL leaks on my property, I'm usually the one who calls it in. Never once when I've done that have they said they already knew. This is the same AGL pipeline that ends up in Homerville.
I do sincerely thank Bill Edge and GA-PSC Pipeline Safety for investigating the Homerville explosion and other issues. They're doing far more than either FERC or PHMSA are doing about leaks by the Sabal Trail interstate fracked methane pipeline.
However, clearly there is room for improvement.
Two new GA-PSC Commissioners take office today: Tricia Pridemore, District 5 (west Georgia), appointed and then elected in 2018, and Jason Shaw, District 1 (south Georgia), appointed in 2018. Maybe they can do something to hold pipeline companies accountable, or, even better, to accelerate getting on with solar power inland and wind power offshore and off of fossil fuels.
Or maybe the Georgia legislature can.
-jsq, John S. Quarterman, Suwannee RIVERKEEPER®
You can join this fun and work by becoming a WWALS member today!
Short Link: