On WWALS TV radio Scott James and Valdosta Airport Executive Director James Galloway and I discussed alligators, karst limestone, and water levels on the Suwannee, Withlacoochee, and Alapaha Rivers. If I have to fly, I much prefer flying out of Valdosta to Atlanta, because if you forget about your pocketknife, security will just ask you if you want to take it to your car.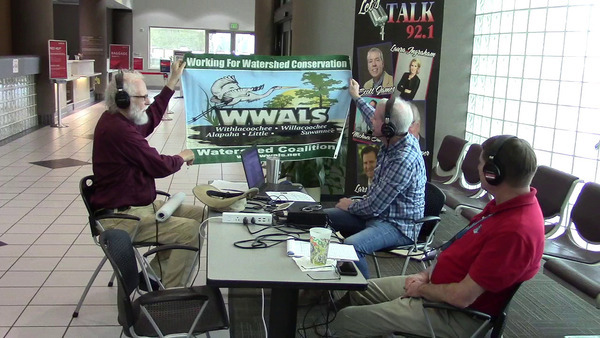 Before outings, we talked about coal ash and how we don't want it in our landfills, as well as stopping diversions of tax funds from their statutory purposes; see Capitol Conservation Day.
About riparian buffers, the vegetation along riverbanks that Georgia mostly does not require, I mentioned that the infamous 2009 and 2013 floods that put Valdosta's old Withlacoochee Wastewater Treatment Plant underwater were largely caused by too much clear-cutting and road and parking lot building, so maybe we could use some riparian buffers.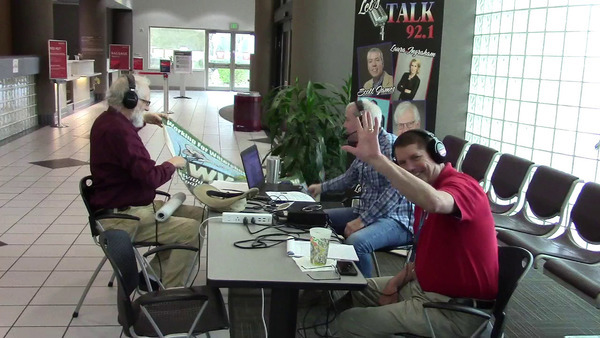 Suwannee Riverkeeper John S. Quarterman, Radio host Scott James, Valdosta Regional Airport Executive Director James Galloway.
Plus, since then, urge your state Senator to vote no on HB 545, unless you want Chinese hog farms next door.
About outings, we discussed:
BIG Little River Paddle Race Saturday, April 27, 2019, about 3 miles starting at Red Roberts landing. You can race or you can just paddle. Watch out for overhanging branches.

Paddle Georgia, June 15-21, 2019, for the first time ever from Georgia into another state, on our Withlacoochee River from Troupville Boat Ramp. Yes, Scott James, or you, can join for a day. I invited him to broadcast from the river on the Suwannee Riverkeeper Aircraft Carrier. He said he might.
and the Suwannee Riverkeeper Songwriting Contest, Saturday, August 24, 2019. And our winner from last year, Laura D'Alisera, will play June 21st at the Final Feast of Paddle Georgia, which WWALS is also catering via the Salty Snapper.
As a 501(c)(3) WWALS can't support or oppose any specific candidates for election, but we can say Valdosta wastewater will be an issue in the mayoral election.
Finally, thank you, Langdale Company for the key to Old Quitman Highway so we can take out below Spook Bridge on Paddle Georgia.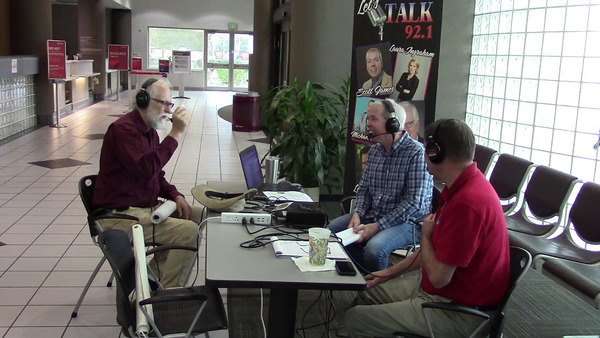 Here's the video:

Video: BIG Little River Paddle Race, Paddle Georgia, Songwriting Contest, coal ash, trust funds, and wastewater, on Scott James Radio 2019-02-22
Video by John S. Quarterman for WWALS Watershed Coalition (WWALS), 22 February 2019, at Valdosta Regional Airport.
Valdosta Regional Airport has lots of space for a radio show, but it's horrible for acoustics. I've cleaned up the sound as much as I could.
For more WWALS outings and events as they are posted, see the WWALS calendar or the WWALS outings and events web page. WWALS members also get an upcoming list in the Tannin Times newsletter.
-jsq, John S. Quarterman, Suwannee RIVERKEEPER®
You can join this fun and work by becoming a WWALS member today!
Short Link: