Update 2020-05-27: Withlacoochee River still clean 2020-05-25.
Water quality test results through Wednesday are good, and rain has only been drizzles except way upstream. That's probably not enough to wash any new E. coli into the rivers. So I've set the Swim Guide Withlacoochee River "beaches" to green for "Meets water quality standards". This is all advisory, of course: conditions can change rapidly. But there's no big rain in the forecast.
WWALS will be testing this weekend. You can help.
Since our last report, we've gotten data from Valdosta through Wednesday, May 20, and from Madison Health for Tuesday. That all confirms the WWALS results over the weekend.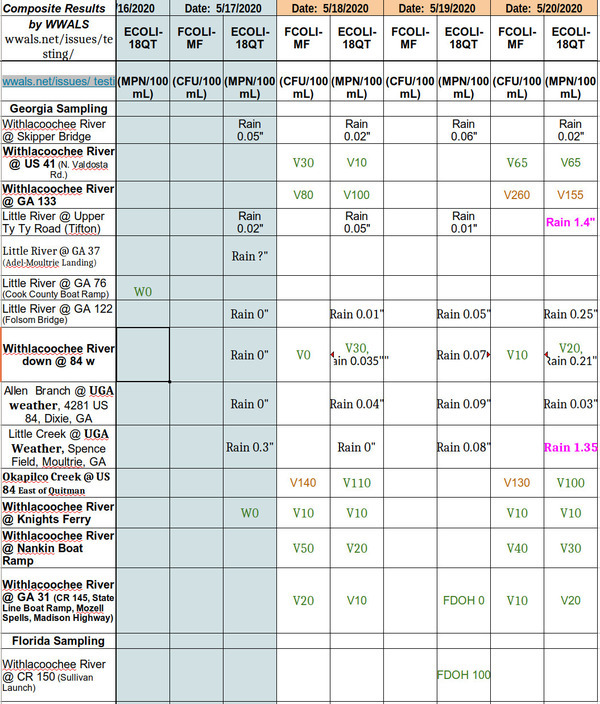 Good to paddle
For context, including the entire WWALS composite water quality table of results from both Georgia and Florida, see wwals.net/issues/testing/.
None of the usual rain gauges got more than a quarter inch. The only real rain was upstream at Tifton on the Little River, and in Moultrie on a tributary of Little Creek of Okapilco Creek. That last one is a UGA station at Sunbelt Ag Expo in Spence Field.
That upstream rain I'm guessing will come downstream as clean water.

Cook County Boat Ramp (top left) to Running Springs (lower right)
in WWALS map of all public launches and Boat Ramps in the Suwannee River Basin.
We still don't know what is going on downstream on the Suwannee River, because nobody is testing there. Floridians, maybe you'd like to ask your elected and appointed officials to do regular testing. If Valdosta and Lowndes County, Georgia can do that to the state line, Florida can test from there to the Gulf.
-jsq, John S. Quarterman, Suwannee RIVERKEEPER®
You can join this fun and work by becoming a WWALS member today!
Short Link: