FOR IMMEDIATE RELEASE
Hahira, Georgia, November 12, 2020 — Join the Mayor of Valdosta and a hundred of his closest friends for a leisurely paddle on the Withlacoochee River. Mayor Scott James says, "Over a year removed from a terrible spill into our area waterways, and right at a year of massive improvements to our infrastructure since our last 'Mayors Paddle,' I am again looking forward to fellowship on the river February 6."
All elected officials present will have three minutes to speak. And you can paddle up to them and ask questions.
WWALS President Tom H. Johnson Jr. said, "This stretch of river extends from the most populous city in the Suwannee River Basin past some suburbs and many rural woods. It is important for all the upstream city and county wastewater treatment plants to keep a grip on their sewage, because many people depend on the Withlacoochee River for swimming, fishing, and boating, plus water wells nearby may be affected by anything that goes into the river. It's a joy that publicly elected officials are involved in this activity, and that the Mayor is helping organize it."
It was fun last year, so let's do it again! There is plenty of room to stay six feet apart, at Troupville Boat Ramp, the lunch stop, and at Spook Bridge, and of course on the water. We are still working out how the shuttle will work.
Suwannee Riverkeeper John S. Quarterman said, "Thanks again to The Langdale Company for riverside access at the mid-way lunch stop, and at the Spook Bridge takeout."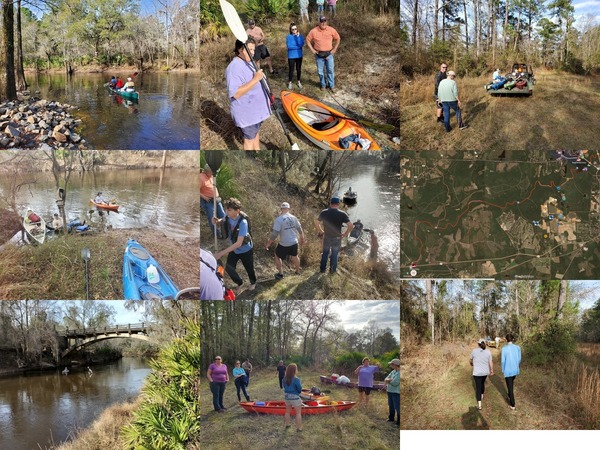 Pictures from last year, 2020-01-18.
Attractions include Valdosta's famous Withlacoochee Wastewater Treatment Plant (WWTP) Outfall, which has not spilled since December 2019. Yes, we know some people in the Valdosta city government consider that not a spill, since the raw sewage never actually got into the WWTP. We hope Valdosta's new catch basin prevents that. Most of the route is downstream from GA 133, where Valdosta has frequently gotten high E. coli results from nobody yet knows what source. The entire route is upstream of Okapilco Creek, which sometimes carries cattle manure runoff after big rains. We will once again test the water quality from the river.
When: Gather 9 AM, launch 10 AM, end 4 PM, Saturday, February 6, 2021
Put In: Troupville Boat Ramp, 19664 Valdosta Hwy, Valdosta, GA 31602: on GA 133 off I-75 exit 18. in Lowndes County.
Take Out: Spook Bridge, west from Valdosta on US 84, left onto Ousley Road, right onto Old Quitman Highway, stop at the gate.
Thanks to The Langdale Company for access through their private property to Spook Bridge for this outing and for water quality testing.
Bring: the usual personal flotation device, boat, paddles, food, drinking water, warm clothes, and first aid kit. Also trash pickers and trash bags: every WWALS outing is also a cleanup.
Free: This outing is free to WWALS members, and $10 (ten dollars) for non-members. You can pay the $10 at the outing, or online:
https://wwals.net/donations/#outings
We recommend you support the work of WWALS by becoming a WWALS member today!
https://wwals.net/donations/#join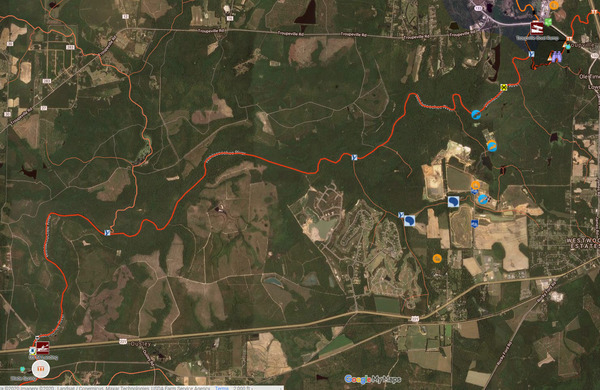 Troupville Boat Ramp (upper right) to Spook Bridge (lower left) in the WWALS map of the Withlacoochee and Little River Water Trail.
Continue reading