Thanks to new Valdosta Utilities Director Darryl Muse, we think we have communication channels clarified between Valdosta and WWALS, and we have a proposal for the state of Georgia to do what Florida and Alabama are already doing to prevent communication issues in the future.
Especially since we expected paddlers from Atlanta and Gainesville, Florida, at the Saturday October 14 Withlacoochee outing and Rivers Alive Nankin Landing Cleanup in conjunction witih KLVB, I called upstream the Thursday before to check with Valdosta Utilities, and was told no spills in October.
Much to our surprise after the outing, WWALS E.D. Gretchen Quarterman noticed this online: Thomas Lynn, Valdosta Daily Times, 13 October 2017, Sewer blockage causes city pill,
A sewer line blockage caused nearly 4,000 gallons of sewage to spill earlier in the week.

The City of Valdosta Utilities Department staff responded to a sanitary sewer spill at the 400 block of Connell Road around noon Thursday, according to city officials Friday.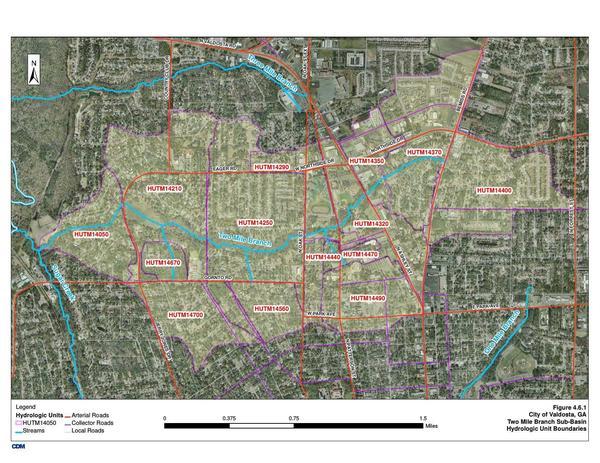 Hydrologic Unit Boundaries, Two Mile Branch Sub-Basin, Valdosta Master Stormwater Management Plan.
That's in the top center edge of the Two Mile Branch watershed.
Noon was an hour before I called; keep reading for what happened.
The VDT story continues: Continue reading →