The fracked methane gas flowing has provided more evidence that there is no need for Sabal Trail. Now more than ever, you can watch that pipeline like a hawk, work on revoking its permits, and help stop FERC from rubberstamping any more boondoggles.
Jamie Wachter, Suwannee Democrat, 27 June 2017 (also Waterkeeper Alliance 28 June 2017, and Valdosta Daily Times page 8A 28 June 2017 but apparently not online), Gas now flowing through Sabal Trail pipeline,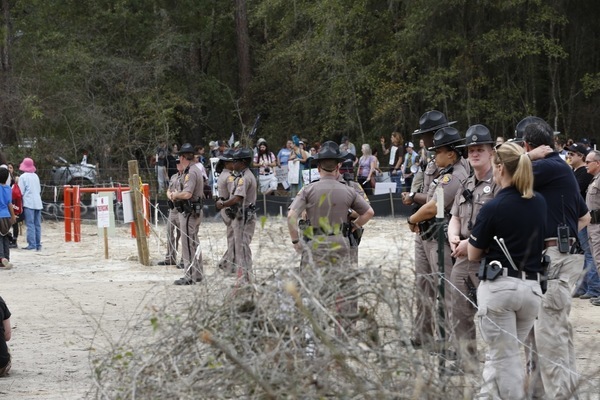 Photo: Beth Gammie for WWALS, Suwannee County, Florida, 14 January 2017
Is this a good use of Florida local and state law enforcement?
Protecting an invading, unnecessary, pipeline from the unarmed public?
The pipeline's first phase is supposed to provide service to Florida Power & Light to meet the start of its peak cooling season, Grover said.
Note Ms. Grover's careful phrasing Continue reading →