There's a rumor that Sabal Trail has some equipment stuck in a sinkhole at the Suwannee River.
Multiple people have gone and videoed and seen nothing like that there, on either side of the Suwannee River. We've also checked the Withlacoochee River at US84: nothing like that is visible at the visible HDD site in Georgia (it could be at the Brooks County, GA site that we can't see).
The drilling equipment formerly at the Martin Lane Withlacoochee HDD site in Lowndes County, Georgia is gone, and the drill truck photographed recently at the Suwannee south bank HDD site looks like the same Southeast Directional Drilling truck with the Arizona address on its side.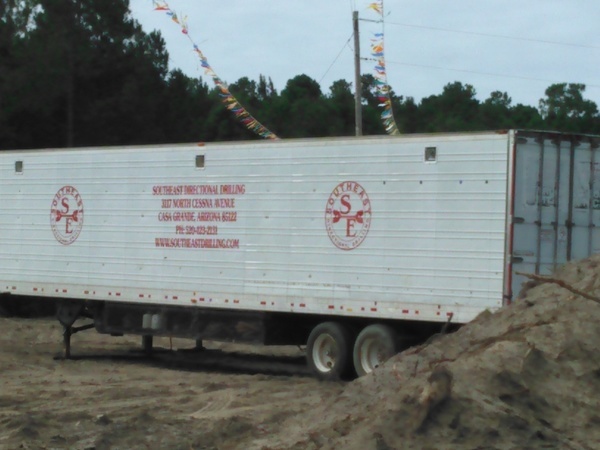 Incidentally, unlike some other Sabal Trail contractors, Southeast Direcional Drilling LLC is registered in Florida as a Foreign Limited Liability Company.
People have wondered how long it takes Sabal Trail to drill under a river.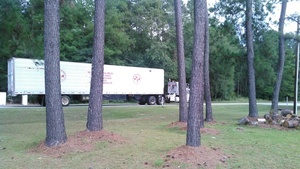 I saw that SEDD truck pull into Martin Lane for the Withlacoochee River 5 October 2016. Apparently that truck moved down to the Suwannee River some time this past week, so that's about ten weeks at the Withlacoochee River. However, that was probably the longest HDD operation on the entire pipeline path, since it went under the river, under US 84, under the CSX railroad, and under Tiger Creek. Plus there may have been some delays due to the frac-out under the river and the sinkhole at the HDD site.
If I'm not mistaken drilling under the Santa Fe River took less time than that. So assume Sabal Trail will try to ram its pipe under the Suwannee River in less than ten weeks from last week, I'd bet by the end of January if they can do it. Yes, I know they file schedules in their biweekly reports, but I believe those about as much as I believe their promises either nothing will go wrong or they know how to fix it.
My guess as to the current rumor about Sabal Trail equipment stuck in a sinkhole is either somebody heard about the WIthlacoochee River HDD sinkhole, or there's a sinkhole somewhere not visible from a public road. Or maybe somebody heard about the backhoe stuck in wetlands back in September on Florida Southeast Connection. Or maybe there really is a sinkhole somewhere else.
Everybody who can, keep photographing Sabal Trail destruction and reporting potential violations. Follow that last link for a bunch of other things you can do without leaving your home or office.
Meanwhile, everyone please stop asking the landowners at the Suwannee River for access to their property. You can actually see the drill sites better from Suwannee River State Park, which is public land.
Does anyone else find it ironic that people are getting arrested for just being on public roads near a Sabal Trail easement, while Sabal Trail barges off its right of way onto somebody else's land like at Okapilco Creek and nothing happens unless somebody happens to catch Sabal Trail at it?
If you're new to all this, here's Why #NoSabalTrail #NoDAPL #WaterIsLife.
-jsq
You can join this fun and work by becoming a WWALS member today!
Short Link: