FOR IMMEDIATE RELEASE
Jasper, Florida, November 6th 2016 — Better modeling and measurement of more water reuse and retention with fewer water withdrawals in both north Florida and south Georgia, WWALS Watershed Coalition (WWALS) recommended yesterday in comments (PDF) on the North Florida Regional Water Supply Plan (NFRWSP). WWALS also opposed the Falling Creek Aquifer Storage project and suggested a replacement, and recommended including threats to the FLoridan Aquifer and the Suwannee, Withlacoochee, and Alapaha Rivers such as pipelines and fracking.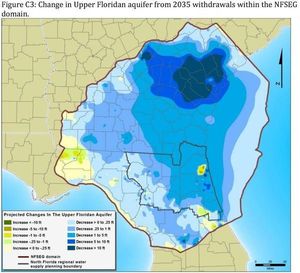 WWALS applauded water supply projects involving reuse or stormwater, especially those in Jacksonvile and Gainesville, two of the sources of the general problem of falling water levels in the Floridan Aquifer. WWALS also applauded the plan to set minimum flow levels on the upper Suwannee River and WWALS expects to be involved with that.
WWALS recommended expanding the original study area, which stopped at the Suwannee River on the west and the Georgia-Florida state line on the north. WWALS president John S. Quarterman explained,
"Our rivers don't stop because there's a state line on a map, and there are three second-magnitude springs on the Withlacoochee River in Georgia south of Valdosta, one of them with a more than 4,000-foot cave system, that aren't taken into account in this draft plan."
Quarterman elaborated on a much larger concern: Continue reading →