Georgia EPD found Sabal Trail out of its right of way at Okapilco Creek in Brooks County, and an enforcement action is being prepared.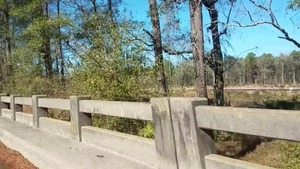 This was while investigating the possible wetlands and water violations reported by WWALS. So reports do sometimes work, although sometimes for violations different than the ones you thought you were reporting.
Update 21 Dec 2016: Please report potential violations.
This afternoon GA-EPD called me to provide a preliminary report on what they found when they inspected the possible violations WWALS reported December 8th 2016. The call came from Tommy W. Fowler, Program Manager, Southwest District, Georgia Environmental Protection Division (GA-EPD). These are my notes on what he said, in order from the WWALS complaint filing:
WWALS: "no silt fence where Sabal Trail's pipe is laid out north of Coffee Road across Okapilco Creek and Little Creek in obvious wetlands"

GA-EPD: Most of the disturbance was a previous forestry activity. On Sabal Trail's area they did have silt fence, only on areas where it's needed according to the plan. GA-EPD inspected last Friday (2016-12-09) after the recent rains, so any problems would have been visible.

GA-EPD: Nonetheless, at Okapilco Creek STT exceeded the maximum width without a stream buffer variance. GA-EPD is finalizing an enforcement action, which has to go through the director's office and STT has to sign it. Once that's done, GA-EPD will furnish a copy to WWALS, but they can't talk about it in detail until them.

However, enforcement actions of this type typically include monetary settlements.

WWALS: GA 333 & Coffee Road silt fence does not continue.

GA-EPD: the silt fence doesn't have to continue to the road. The picture shows the edge of the bore hole, and water goes into the hole. Water is likely to discharge to the right of the picture, where they do have silt fence, and also also downhill from there. Silt fence is not required on the upslope side.

On the other side of road, downhill there's an ephemeral ditch, which does have silt fence.

WWALS: GA 122

GA-EPD: Same as GA 333.

WWALS: "Damaged wetlands near Sabal Trail GA 122 construction site, Brooks County, GA"

GA-EPD: Location of picture of muddy water in stream was hard to identify. However, it is adjacent to where a farmer recently cleared woods for expanding at field, and apparently is not related to STT. It is more likely agricultural activity "which is exempt".
WWALS: As more people send in reports, where should they send them?
GA-EPD: The same addresses WWALS sent to, plus Tom Fowler. See Georgia in Addresses for Sabal Trail permit violations.
Fowler does suggest looking at the permit to see what is required.
That's not just the four-page Clean Water Act Section 401 certification from June 2016. In addition to other conditions, that certification incorporates by reference:
The applicant must comply with the terms of the NPDES General Permit for Infrastructure Construction Projects (GAR100002).
He followed up with an email which clarified (I have added the links he referred to):
The web link to the NPDES General Permit applicable to the SABAL Trail project can be found at: http://epd.georgia.gov/npdes-construction-storm-water-general-permits

Click on the General Permit GAR100002 button to download the General Permit that SABAL Trail's construction activity is permitted under.

I forgot to mention during our telephone conversation that individual NPDES Permits are not issued in Georgia for storm water discharges from construction activities, but that similar construction activities are permitted under NPDES General Permits instead. Basically, this means that because construction activities are similar in nature and would require similar permit conditions, they can be permitted under a general permit which would have the same permit conditions for those similar construction activities. In Georgia, we have 3 separate NPDES construction storm water general permits: Stand Alone (GAR100001), Infrastructure (GAR100002), and Common Development (GAR100003). SABAL Trail is permitted under the Infrastructure General Permit. Please let me know if you have any questions. Thanks.
GAR100002 in turn requires compliance with the Manual for Erosion and Sediment Control in Georgia (2016 edition), which includes many Best Management Practices (BMPs) beyond just silt fences, including disturbed area stabilization, mulch, and brush burns.
While GA-EPD currently has only one person covering 34 counties for stormwater and erosion control, they just sent an additional person to training for erosion control, so soon there will be two.
I complimented Fowler on GA-EPD being the most responsive agency.
-jsq
You can join this fun and work by becoming a WWALS member today!
Short Link: