Update 2020-04-16: Videos: No Build: Fire and Traffic at M-CORES toll road meeting, Madison, FL 2020-02-11.
Here's an idea from WWALS member Janet Mikulski Messcher.
To: Governor Ron DeSantis
GovernorRon.Desantis@eog.myflorida.com
800-342-3557

Dear Governor DeSantis,

In light of the COVID-19 pandemic, please seek ways to shift funding from unnecessary and destructive projects to those that support our current public and community health needs. In particular, the M-CORES legislation, passed in the 2019 session, includes money for the task force process and for construction of three destructive tollroads. There is significant public opposition to these roads which have not been proven to be necessary nor economically viable. Attention should be focused on supporting our public health, including additional testing and research to support development of a vaccine.

If the Legislature returns to Tallahassee for a special session to address the budget in response to the COVID-19 pandemic, we recommend that the House and Senate budget leaders consider diverting the $135 million (FY 2019/20 and FY 2020/21) earmarked from the M-CORES tollroads to go to pandemic response efforts and other community health priorities.

Sincerely,
[Your Name]
Please share this post and send in your letters. Feel free to copy your M-CORES Task Force members.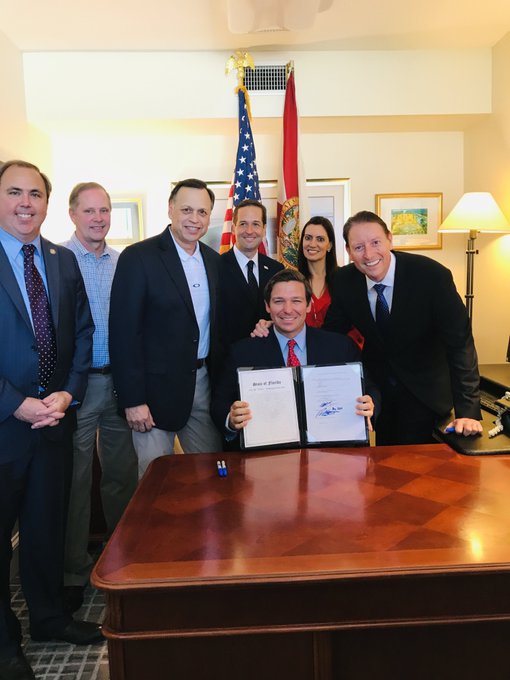 Photo: Bill Galvano, President, Florida Senate, Twitter, 17 May 2019.
Here are more videos from the Madison County meeting of February 11, 2020, continuing the series that I started yesterday. I do not know whether these speakers support repurposing the funds as above, but Florida Conservation Voters was among the 90 organizations that asked Gov. DeSantis to veto the toll roads bill, as part of the No Toll Roads to Ruin coalition.
Lindsay Cross of Florida Conservation Voters asked the M-CORES Task Force to consider community vision instead of the toll road vision foisted on all of us by a few people in Tallahassee.
The Mayor of Monticello, Troy Avera, had been trying to sit on the fence, but he really doesn't like a bypass, which would starve his city.