Noon to 3PM today, WWALS will be on the VSU front lawn with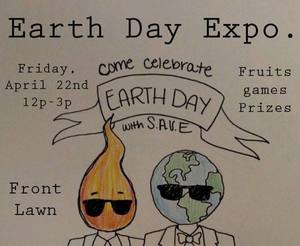 Students Against Violating the Environment (S.A.V.E.), celebrating Earth Day, recommending along with Waterkeeper Alliance: Keep it in the Ground, especially fracking for pipelines including Sabal Trail, and congratulating Lowndes County on progress on the new Naylor Boatramp and Valdosta on finally almost just about pretty soon finishing its fixes to stop spilling sewage into our rivers.
Tomorrow at 8AM, come paddle with WWALS from Hotchkiss Road in Lanier County to Mayday in Echols County, past the new park and boat ramp Lowndes County is building just north of US 84. Next month at Reed Bingham State Park between Adel and Moultrie, GA, it's the BIG Little River Paddle Race, registration 8-9AM Saturday May 21, 2016. And in June come paddle on the Withlacoochee River from Florida Campsites Ramp to Suwannee River State Park, Saturday June 4, 2016. Before then we hope to invite everybody downstream from Valdosta's sewage spills to attend the end-of-May signing ceremony for the new Valdosta force main and uphill Withlacoochee Wastewater Treatment Plant!
If you fall in on one of these outings, you could win Continue reading →