Noon to 3PM today, WWALS will be on the VSU front lawn with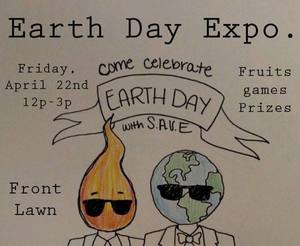 Students Against Violating the Environment (S.A.V.E.), celebrating Earth Day, recommending along with Waterkeeper Alliance: Keep it in the Ground, especially fracking for pipelines including Sabal Trail, and congratulating Lowndes County on progress on the new Naylor Boatramp and Valdosta on finally almost just about pretty soon finishing its fixes to stop spilling sewage into our rivers.
Tomorrow at 8AM, come paddle with WWALS from Hotchkiss Road in Lanier County to Mayday in Echols County, past the new park and boat ramp Lowndes County is building just north of US 84. Next month at Reed Bingham State Park between Adel and Moultrie, GA, it's the BIG Little River Paddle Race, registration 8-9AM Saturday May 21, 2016. And in June come paddle on the Withlacoochee River from Florida Campsites Ramp to Suwannee River State Park, Saturday June 4, 2016. Before then we hope to invite everybody downstream from Valdosta's sewage spills to attend the end-of-May signing ceremony for the new Valdosta force main and uphill Withlacoochee Wastewater Treatment Plant!
If you fall in on one of these outings, you could win one of the new WWALS Fallers plaques! We didn't have those when I fell into each of these rivers, but now you can win one.
WWALS is the Waterkeeper Alliance Affiliate for all of these rivers, and Waterkeeper® Alliance recommends: "This Earth Day, take action to Keep It in the Ground!"
Fracking is the source of the methane Williams Co. wants to pipe through Transco to Sabal Trail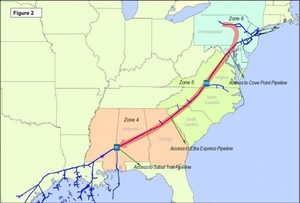 and FSC to new FPL and Duke power plants and the many already-authorized LNG export and LNG train operations in Florida, as WWALS explained in its invitation to the U.S. Army Corps of Engineers to come investigate the many springs, sinkholes, and underground conduits Sabal Trail didn't mention to FERC.
WWALS just had a fun day helping surround Sabal Trail at its contractor fair in Live Oak, FL, where Riveroak Technical College students said, "No Fracking!" WWALS continues to explain to local governments that they can help stop this destructive, hazardous, and unnecessary pipeline so the $3 billion wasted on it can go to solar power for the Sunshine State. WWALS co-signed a letter to the Land and Water Conservation Fund asking them to investigate.
You can ask your federal representative to ask GAO to investigate FERC and rubberstamps like Sabal Trail.
You can sign and distribute a petition to get local, state, and federal elected officials to put a stop to the Sabal Trail boondoggle that risks our property rights, rivers, aquifer, and air.
WWALS helped with the historic 34 aye to 128 nay vote by the Georgia House to reject river-drilling easements for Sabal Trail, and other pipelines are being "suspended" or delayed so many and so fast I can't keep up with them.
Waterkeeper recommends:
The fossil fuel industry is now slipping into financial crisis thanks to historically low prices, the Obama administration ordered a three-year moratorium on all new and updated coal leases on federal land, and two consecutive years of record global temperatures have increased support for a 100% transition to renewable energy.

But despite all of this progress, the United States continues to lease public land and water for fossil fuel extraction, leading to the production of 706 million barrels of oil, 3.8 trillion cubic feet of natural gas and 421 million tons of coal in 2014 alone, going against claims made in Paris and Obama's legacy, which is why we are a part of the Keep It in the Ground movement.

Over the past year, Keep It in the Ground advocates have tirelessly been working on efforts that have gained furious momentum across the globe, halting new fossil fuel leases on public lands and oceans. However, there are still many challenges that lie ahead. In the United States, the extraction of publicly-owned fossil fuels like tar sands and oil shale in the Colorado River drainage and offshore oil drilling in the Atlantic threatens cherished American landscapes, oceans, wildlife and communities, and the livability of the planet we all rely on.
And since BP's Deepwater Horizon disaster apparently wasn't enough, we still need to stop
new oil or gas leases in the Gulf of Mexico. That's where the Gulf Sturgeon come from that are spawning now in the Suwannee River, mostly upstream from the Withlacoochee River Confluence, in WWALS territory. That's the same sturgeon that is the very symbol of Waterkeeper.
Keep it in the Ground, for the Gulf Sturgeon!
-jsq
You can join this fun and work by becoming a WWALS member today!
Short Link: