Press Release, 28 August 2015, Public Advisory: Georgia EPD Issues 2015 Hazardous Site Inventory with Interactive Map,
The Hazardous Site Inventory (HSI) is a list of sites in Georgia where there has been a known or suspected release of a regulated substance above a reportable quantity and which have yet to show they meet state clean-up standards. The HSI is published annually by the Georgia Environmental Protection Division. The new interactive Map uses the familiar Google Maps interface and includes basic information about each site as well as links to individual Site Summary pages. More information about the HSI, including the Google Maps feature, is available at: http://epd.georgia.gov/hazardous-site-inventory.
Follow that link and you'll find an interactive map plus an introduction and lists by name, county, site number, and class.
Not all the hazardous sites shown above are in WWALS territory. For comparison, here's a map of WWALS rivers: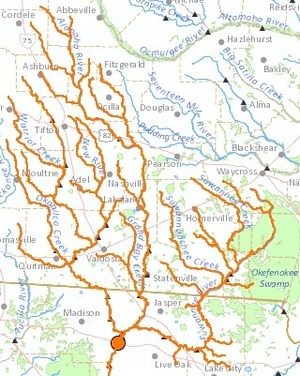 And this GA-EPD site naturally only shows sites in Georgia, so any in Florida are invisible here.
-jsq
Short Link: