Update 2015-02-13: Press release with revised agenda.
Update 2015-12-23: Now with silent art auction!
The visual beauty of the rivers in an art exhibit and silent auction,
the geology on display by Dennis Price, and the remains of past people and cultures still visible along the river by Tom Baird, plus the winners of the logo contest for the Withlacoochee and Little River Water Trail presented by VSU art professor Julie Bowland, all in a workshop about two of our biggest WWALS rivers, Okapilco Creek, Piscola Creek, and other associated creeks, lakes, ponds, and swamps.
Logo contest deadline now extended to January 15th, 2016!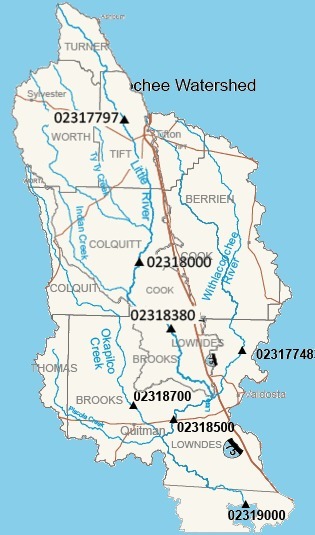 Facebook: event
Meetup: event
What: Withlacoochee and Little River Water Trail Workshop
When: 1:30 PM-4:30PM
Saturday, February 27th, 2016
Where: UC Theater
University Center
Valdosta State University
1215 N. Patterson St.
Valdosta, GA 31698
Introduction to WWALS
—Dave Hetzel, WWALS Ambassador
About the Water Trail
—Chris Mericle, WLRWT Committee Chair
About the art show and the logo contest
—Julie Bowland, VSU Art Professor
The remains of past people and cultures still visible along the river
— Tom Baird, seen above presenting at VSU for WWALS three years ago.
The geology underlying all our rivers
—Dennis Price, professional geologist, seen here testifying as an expert witness at the October 2015 hearing in WWALS v Sabal Trail & FDEP.
Logo prize presentation
—Julie Bowland,
assisted by Deanna Mericle
Wrapup
—MC Gretchen Quarterman.
Outings
We just paddled several times on the Withlacoochee River:
Come paddle the Little River with WWALS at the January Outing from GA 122 to Lawson Millpond Road, betweeen Hahira and Barney, January 16th 2016.
Coming up in May is the annual BIG Little River Paddle Race; stay tuned for details.
See the upcoming outings and events for numerous listings and details. Now with Meetup in addition to facebook events!
-jsq
You can join this fun and work by becoming a WWALS member today!
Short Link: