Julie Bowland reports:
Joy of joys! The humongous mud hole in the access road to the boat ramp off 133 across from the prison has finally been filled! And a sign calling it a park…could WWALS brochures be far behind?
This is the Little River Boat Ramp on the Withlacoochee and Little River Water Trail (WLRWT).
George Page, Executive Director of the Valdosta-Lowndes Parks & Rec Authority (VLPRA), told me it seems like a year or more ago that he had found funds to fix that access, and now I guess it's happening.
It's always been a park, listed under VLPRA as Little River Boat Ramp, but it's good they finally put up a sign saying that.
30° 51'6.63″N 83° 20'47.53″W Little River Boat Ramp offers access to the Little River on the border of Lowndes and Brooks Counties and is located near Exit 18 off Interstate 75.

Intersection of St. Augustine and Val Tech Rd. Valdosta, GA 61602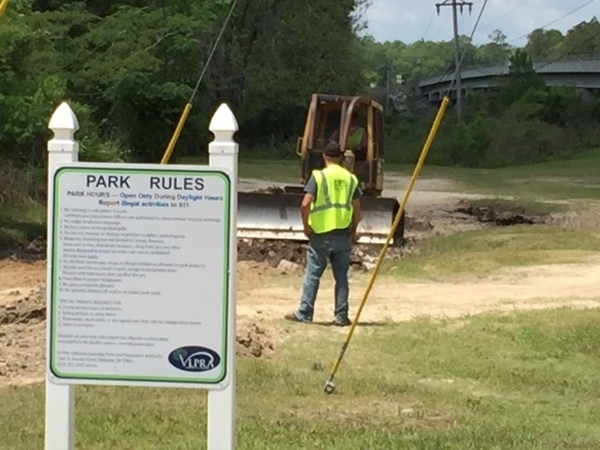 Georgia DNR lists it as Troupeville Landing:
Water: Little River
X: -83.34751 | Y: 30.85141
Parking: Dirt/Gravel (10)
RampType: Paved (2)
CourtesyDock: No
Restroom: No
Contact: (912) 285-6094
It's also on georgiaoutdoormap.com with much the same description and the same contact number, which is for the Fisheries Division in Waycross. Troupville is spelled incorrectly on both websites.
Supposedly all the other VLPRA parks with boat ramps will be similarly fixed soon, with GA-DNR assisting with the actual boat ramps, many of which they may own.
We have a temporary pamphlet for the Withlacoochee and Little River Water Trail. The main thing we're lacking to print a fancier brochure is the rest of the funding: we have $500 from Valdosta-Lowndes Tourism, and we could use about that much more.
-jsq
You can join this fun and work by becoming a WWALS member today!
Short Link: